About The Power of Music Thinking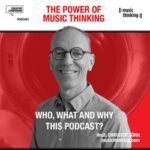 The Power of Music Thinking with Christof Zürn is a podcast on Spotify, Apple or wherever you listen to your podcast.
This podcast is for people with a musical heart and a wicked job.
Creative Companion, Business Advisor, Service Designer, Lecturer and Musicologist/Musician Christof Zürn takes you inside the minds of some of the world's most exciting people AND Musicians. Professionals that, in some way or another, use music, musical principles, instruments and techniques to work meaningfully together.
So, please meet
the CEO of a digital platform that is also the conductor of a Big Band or
a Global Design Director of a well-known design firm playing guitar and teaching at a top-notch music and art school.
We had conversations with a Customer Success Manager of a big tech company that was the guitarist of a well know pop band,
a University Professor for Organisational and Community Psychology finding success patterns and playing the bass, and
the Director of a famous Design and Art school that was a worldwide performing musician and conductor of classical music.
I think you get the idea!
From deep listening to developing a creative mindset for innovation, using instruments to better connect with each other and letting people see the big picture, one thing is for sure: you will hear and see patterns in your personal or business life and think from different perspectives at the same time.
Listen and subscribe to the podcast on the following platforms
You can listen and subscribe to The Power of Music Thinking on Apple , Spotify , Reason.fm , Google , Amazon Music/Audible , Stitcher , Pandora , or wherever you listen to your podcasts.
Or listen here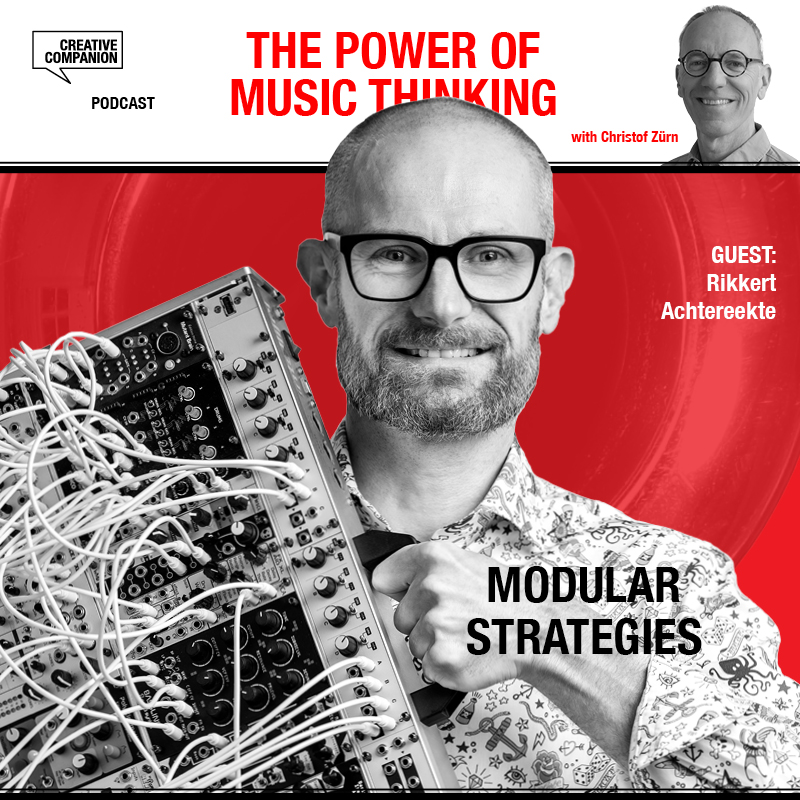 The latest podcast
Exceptionable photographer and musician Charles Brooks, who for the last 20 years has been New Zealand's most successful orchestral cellist, shares with us how he makes thousands of photographs of the inside of musical instruments to create an astonishing spatial picture: Sound Pictures.
Podcasts 2023
We started the year with an interesting subject: polymath. We talked to the photographer, doctor of medicine, polymath coach and musician Barbara Kleeb and raised the question: Are You a Polymath? Did you know that many UX and Service Designers are polymaths?
Hear a new episode with Maui Sound Healing expert Rasa Priya; we talk about healthcare, sound healing and the power of mantras and a pivotal moment in the hospital when caring for a cancer patient and the power of human compassion.
What has political journalism to do with music? Well, quite a lot. Matt K. Lewis shares with us Five Lessons about what Music taught him about political journalism.
Born in New York, active in the Punk scene in London in the 70s and now a sound healer in Los Angeles, learn more about A Sound Life of Dr. Jen Palladino.
Global Design Director Experience Design at IKEA, writer and musician Eelko Lommers shares his insights on playing in a post-metal band, writing a fantasy novel and leading a global team in World-building and empathic storytelling.
Assistant Professor at Nanyang Technological University (Singapore) Ben Pelzer shares his research and lectures about music as a sort of socio-cultural phenomenon and is using techniques from the field of communication and applying them to the field of music. Listen to How music speaks.
Podcasts in 2022
Brands as Patterns is a concept by Marc Shillum. We talk about what brands can learn from music and the different positions of leadership in an organisation, team or project.
And finally, The Power of Music Thinking is a book. Christof Zürn asked his daughter Xenia – who collaborated with him on Music Thinking – to ask him anything about the book. In Talking about the book with Xenia they are having a lovely conversation.
Do you know how music can (re)charge the way you are leading and how leaders can work on their behavioural traits based on music principles? Paula White shares with us the ten archetypal instruments that are based on a scientific survey.
In Performing in Japan with Björn Eichstädt, we speak about the soundscape of Japan and how this relates to business and the way work is done in Japan.
And a special episode leads us to Green Vinyl Records and the question of how sustainable is our music listening spread over different media.
A Mini-Series of three podcasts about playing an instrument
Every leader should play an instrument, it will give them the experience of learning, listening, trying, understanding, and repeating. I suggest a 'Followership – Leadership Exercise' in The Power of Music Thinking book: learn a musical instrument. It will rewire your brain and give you a lot of fun and new skills you can experience. You can pick any instrument in the world to do this. If you are not sure yet, you could try one of the following: Shakuhachi, Ukulele or Modular Synthesizer. Here are three conversations around every one of the three instruments.
Why (not) start to learn Shakuhachi? This is an instrument that connects us with ourselves, our surroundings and nature. A very modern topic is The Sound of Nature with Hélène Seiyu Codjo – Shakuhachi and we hear the 'magic flute' in different ways.
In The Instrument with a smile by Dagan Bernstein we learn everything about the Ukulele, new Hawaiian expressions and mindsets like Malama Kaiaulu, and the act of Kilo and Ike.
And in Modular Strategy with Rikkert Achtereekte we talk about how the way of thinking – giving output and receiving input in a connected system of elements – is the essence of the Music Thinking Framework, with all the cues connected. And we hear beautiful life sounds from modular synthesizers.
In Conducting Design we talk with the Director of the Design Academy Eindhoven and conductor Raf De Keninck about leading and following.
We stay a little in classical music and talk with Gabriella Di Laccio about her career as a professional opera singer and her initiative for women composers and Gender equality.
In the last episode of 2022, we spoke about Every Noise at Once with the Data Alchemist of Spotify, Glenn McDonald. It is a website with nearly 6000 genre types that Spotify is tracking. We spoke about Spotify wrapped, how genres are created from communities and much more.
Podcasts in 2021
Patterns, creativity and organisation
Prof. Dr. Wolfgang Stark – teacher and researcher specialised in organisational and community psychology and visiting fellow at the Vrije Universiteit in Amsterdam. We speak about patterns of success and improvisation in organisations.
And another great episode is about Multi-Sensory Storytelling with creative chef, cook and book author Jasper Udink ten Cate. So why are people tipping six times more than they already have paid for a concert? That is what we talk about with Adrian Cho – author of the Jazz Process and the CEO of the new online platform Syncspace.
What is the impact of good facilitation? This is the conversation with CEO of This is Doing and (ex-) musician Gerry Scullion – a sound facilitation business. And we talk about rules of engagement with the Chief Evangelist of digital online whiteboard MURAL Jim Kalbach.
Episodes that got the most attention in 2021
Steve Keller Sonic alchemist and Strategy Director at leading music and podcast discovery platform Pandora. The Thrills of business with Padraic McMahon, Customer success manager Hubspot, Ex-Google, Ex-LinkedIn and ex-guitarist of the Thrills. Sharon Stewart – creator of sound works, musician, poet, researcher, piano teacher and deep listener. And we have conversations about Music and the Brain with Artur Jaschke from ArtEZ, Cross-pollination in leadership with Ilkka Mäkitalo, CEO of Howspace and conductor of Jäviskula Big Band.
The first Episodes of the podcast
In the first episodes, you can find insights about the music thinking framework and conversations with Roy Scheerder Co-founder of the dutch cooperative Faebric. And R. Michael Hendrix Partner & Global Design Director at design and innovation company IDEO is in conversation together with Panos A. Panay Senior Vice President for Global Strategy & Innovation at Berklee College of Music. Nifemi Aluko, Founder and CEO of kpakpakpa and author of the book Press Play, Music as a catalyst for change is sharing his insights about Africa and the world connections.
Listen to the podcast trailer

You can listen and subscribe to The Power of Music Thinking on
Apple , Spotify , Reason.fm , Google , Amazon Music/Audible , Stitcher , Pandora ,
or wherever you listen to your podcasts.