The Power of Music Thinking with Christof Zürn is a podcast on Spotify, Apple or wherever you listen to your podcast.
About The Power of Music Thinking
Creative Companion, Management Consultant, Service Designer and Musicologist/Musician Christof Zürn takes you inside the minds of some of the world's most exciting people 'AND Musicians'. Professionals that in some or other way use music, musical principles, instruments and techniques to work meaningful together. Or in short, the podcast for People with a musical heart and a wicked job.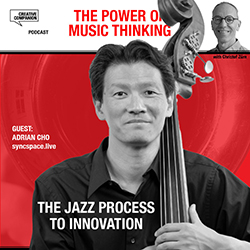 From deep listening to developing a creative mindset for innovation, using instruments to better connect with each other and letting people see the big picture, one thing is for sure: you will hear and see patterns in your personal or business life and think from different perspectives at the same time.
The first Episodes of the podcast
In the first episodes, you can find insights about the music thinking framework, and conversations with Roy Scheerder Co-founder of the dutch cooperative Faebric. And R. Michael Hendrix Partner & Global Design Director at design and innovation company IDEO is in conversation together with Panos A. Panay Senior Vice President for Global Strategy & Innovation at Berklee College of Music. Nifemi Aluko, Founder and CEO of kpakpakpa and author of the book Press Play, Music as a catalyst for change is sharing his insights about Africa and the world connections.
Patterns, creativity and organisation
Prof. Dr. Wolfgang Stark – teacher and researcher specialised in organisational and community psychology and visiting fellow at the Vrije Universiteit in Amsterdam. We speak about patterns of success and improvisation in organisations.
And another great episode is about Multi-Sensory Storytelling with creative chef, cook and book author Jasper Udink ten Cate. So why are people tipping six times more than they already have paid for a concert? That is what we talk about with Adrian Cho – author of the Jazz Process and the CEO of the new online platform Syncspace.
What is the impact of good facilitation? This is the conversation with CEO of This is Doing and (ex-) musician Gerry Scullion – a sound facilitation business. And we talk about rules of engagement with the Chief Evangelist of digital online whiteboard MURAL Jim Kalbach.
Episodes that got the most attention in 2021
Steve Keller Sonic alchemist and Strategy Director at leading music and podcast discovery platform Pandora. The Thrills of business with Padraic McMahon, Customer success manager Hubspot, Ex-Google, Ex-LinkedIn and ex-guitarist of the Thrills. Sharon Stewart – creator of sound works, musician, poet, researcher, piano teacher and deep listener. And we have conversations about Music and the Brain with Artur Jaschke from ArtEZ, Cross-pollination in leadership with Ilkka Mäkitalo, CEO Howspace and conductor of Jäviskula Big Band.
2022
Brands as Patterns is a concept by Marc Shillum. We talk about what brands can learn from music and the different positions of leadership in an organisation, team or project. And finally, The Power of Music Thinking is a book. Christof Zürn asked his daughter Xenia – who collaborated with him on Music Thinking – to ask him anything about the book. In Talking about the book with Xenia they are having a lovely conversation.
Listen and subscribe to the podcast on the following platforms

or wherever you listen to your podcasts:
Search for The Power of Music Thinking