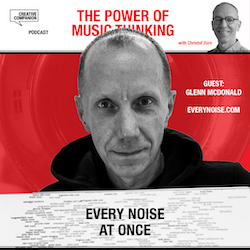 Well, it's this time of the year. And I am not talking about the countdown until Christmas and the holiday. I am also not talking about 'the word of the year', or any other review compiled and curated by air quote "specialists". I am talking about you, or better about your data, or even more close about your musical behaviour, taste and most played songs. Yes, it is when all Spotify users get their personal wrap-up of the year.
But this episode is not about the making of the wrap-up. This episode is about musical genre types, technology and research with musical behaviour.
My guest today is Glenn McDonald, data alchemist of Spotify and founder, programmer and producer of the Every Noise at Once website, which holds and updates examples from all genre types Spotify is tracking.
We talk about personal music algorithms, genre categorisation, subsets of listening, what you can learn from listening data, and how listening behaviour shapes communities that can be the start of a new genre.
Glenn shares with us how he compiled playlists on his Spotify account and a memorable sonic experience when he heard the band Low for the first time live 'opening up a door' to a transformational moment.
Listen now to Every Noise at Once with Glenn McDonald
Shownotes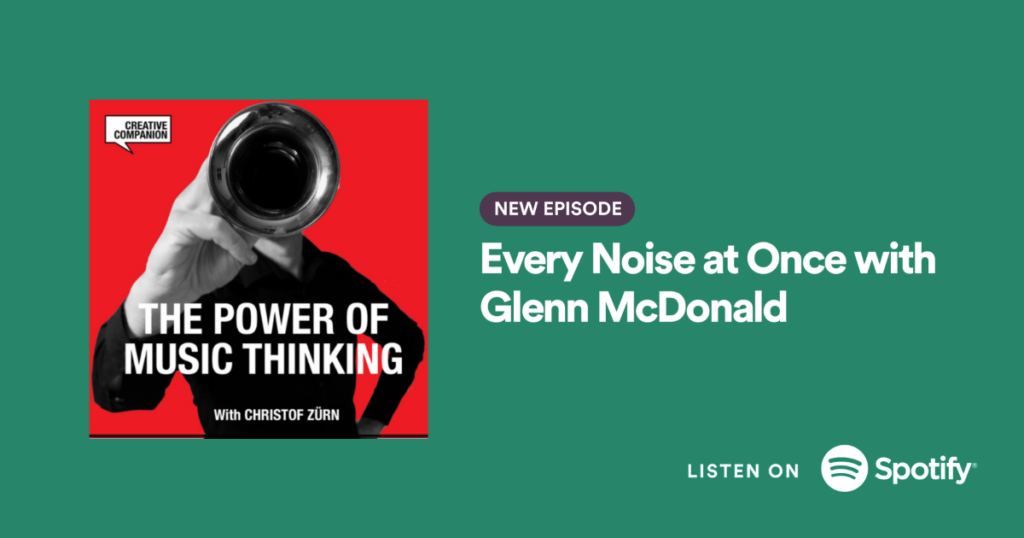 Listen on Spotify: Every Noise at Once with Glenn McDonald (Data Alchemist)
The Power of Music Thinking is brought to you by CREATIVE COMPANION specialised in facilitating leaders, teams and organisations in customer experience, change and innovation. Check out their website.
Do you like books?
Check out the new book: The Power of Music Thinking and get stories, explanations and exercises to apply music thinking. Buy The Power of Music Thinking
More like this
Please subscribe to the podcast and listen to the latest episode of The Power of Music Thinking.