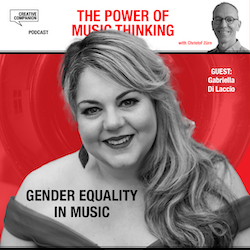 My guest today is Gabriella Di Laccio, public speaker, curator, activist, award-winning soprano and recording artist. She is one of the leading voices in the fight for gender equality in music. Listed as one of the BBC's 100 most inspirational and influential women in the world, Gabriella is also the founder and curator of the charitable foundation Donne – Women in Music – dedicated to achieving gender equality in the music industry.
We talk about the incredibly long list of woman composers and the unbelievably few plays they get in conservative classical music organisations. Gabriella shares with us the research and the numbers from the latest report: that in 2021, almost 9 in 10 compositions played by orchestras around the world are written by white men.
But there is hope. At least in a different field. This year's Biennale di Venezia, invited 213 artists, among them 21 men.
Listen to the episode
And here is an exercise you can do very easily in a quiet moment:
Check your playlists and count the artists that you are listening to (also the producers and composers) and find out how biased your musical taste is.
We also made a start with a Top 6 of woman composers you should know and listen to:
Lili Boulanger
Nadia Boulanger
Fanny Mendelssohn Hensel
Clara Schuhmann
Leokadiya Kashperova
Florence Beatrice Brice
Rachel Portman was the first woman who got an oscar.
Show notes and how to connect with Gabriella
More about Donne, Women in Music
The Power of Music Thinking is brought to you by CREATIVE COMPANION specialises in facilitating leaders, teams and organisations in customer experience, change and innovation. Check out their website
Do you like books?
Check out the new book: The Power of Music Thinking and get stories, explanations and exercises to apply music thinking. Buy The Power of Music Thinking
More like this
Please subscribe to the podcast and listen to the latest episode of The Power of Music Thinking.