Course overview, workshops, modules and training
These courses, workshops and training will help you be a better leader and let your team collaborate, co-create and thrive in a new way. A little disclaimer: you don't need any musical skills or knowledge.
Dutch Special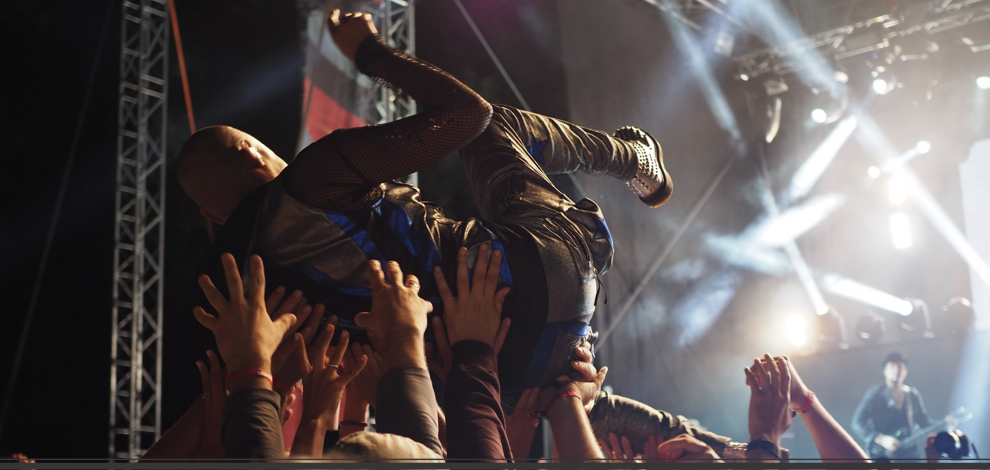 Language: Nederlands
Location: De Basis, Nijmegen
Date: 7 October 2022
TEAM MEESTERSCHAP
NEDERLANDS | 1-DAAGSE | OPEN INSCHRIJVING
Herken je dat? Binnen het team draait het goed maar je voelt dat het nog beter kan. Maar waar dan precies en hoe kan je dat goed onder woorden brengen. Wanneer leidt je nu? En wanneer is het handig om juist te volgen?
In Team Meesterschap – maximaal begrijpen hoe je team werkt en hoe je beter kunt leiden en volgen – ervaar je op een praktische manier hoe team prestaties funktioneren en hoe je in team verband beter kunt presteren.
Three starters
Based on The Power of Music Thinking – the phases, the cues, and many instruments – we designed various workshops to serve your leadership-followership needs and sustainable challenges.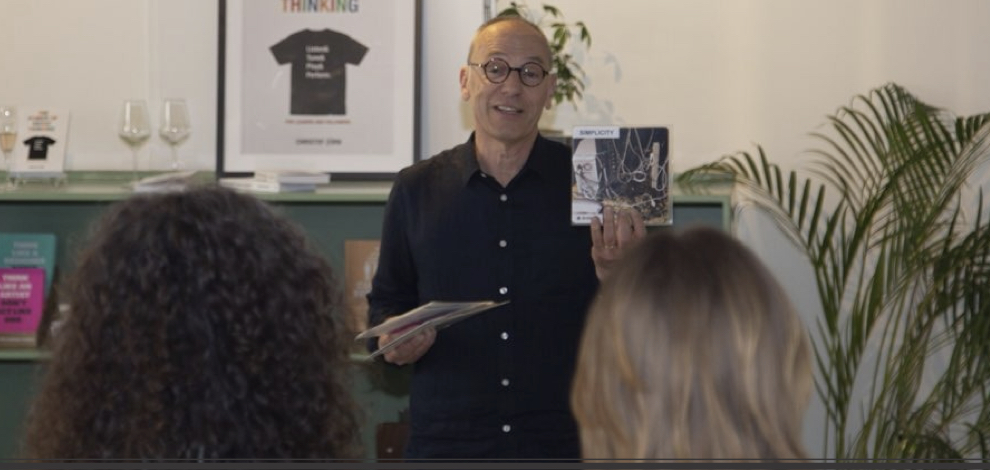 MUSIC THINKING MASTERCLASS | 0,5 DAY
We start with 'The Music in You' exercise to visualise how you listen. We tune in to the Music Thinking Framework and explain how JAMMIN', EMPATHY, PERSONALITY, SCORE, AGILITY and REMIX work together. And we work on your 'Unanswered Question'.
Language: Dutch, German or English
Location: In-company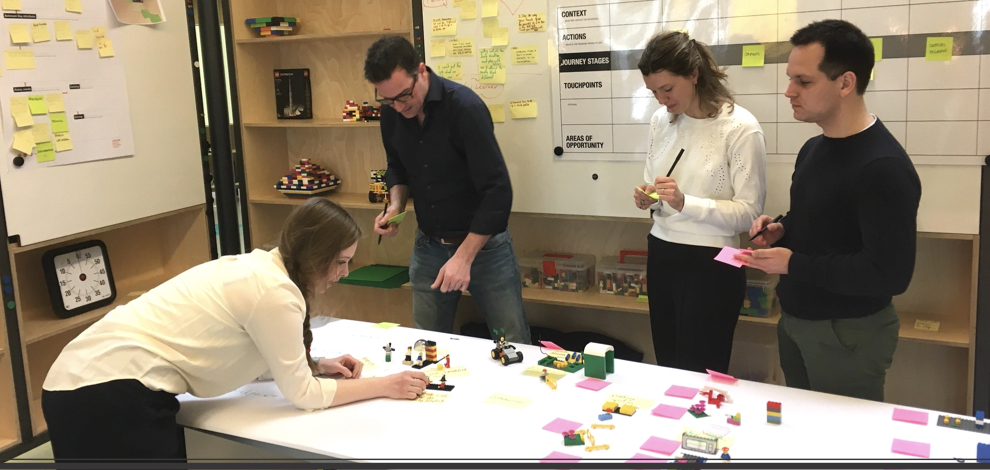 PLAYFUL CUSTOMER JOURNEY MAPPING COURSE | 1-DAY
This dynamic and inspiring course will prepare you to kick-start your customer journey project. It will also give you an understanding of what ways a customer journey can be used, using the music thinking approach.
Language: Dutch, German or English
Location: In-company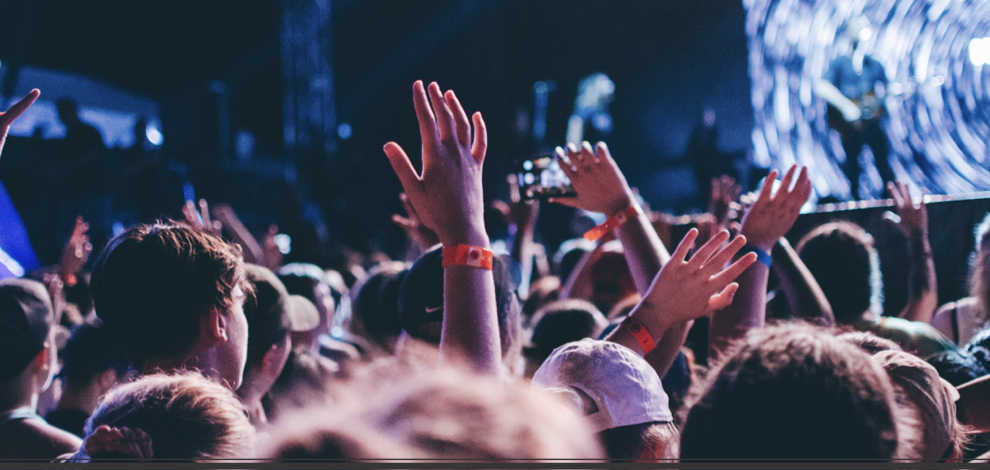 SERVICE DESIGN
PRINCIPAL TRAINING | 2-DAY
Service Design begins with EMPATHY and leads to REMIX. This 2-Day high-energy course will provide you with the fundamentals of understanding humans and designing solutions that fit.
Language: Dutch, German, English
Location: In-company


Modules, Components and Patterns
Modules are components of information, interaction and learning by doing. They are basic theme elements and are easy to integrate into a bigger workshop or programme.

From 30 minutes to a 1/2-day masterclass and from a 2-day principal training to a longer tailor-made programme based on your challenge. Choose your favourite modules and share them with us below.
PURPOSE FINDING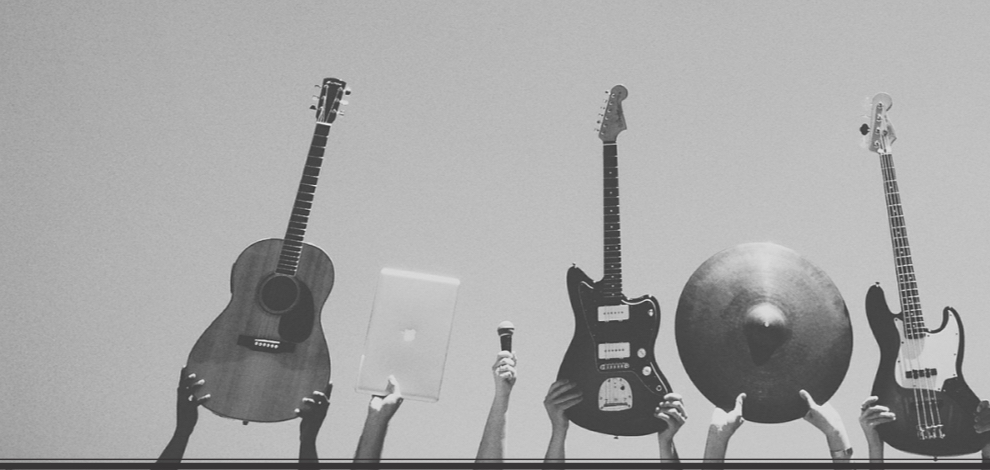 Purpose setting is about aligning your organisation with a higher goal that you, your team and stakeholders care about. We invite your team to join us for an inspiring journey to discover what you want to change in the world.
STORYTELLING
In this online course, you'll learn how to shape your purpose into a narrative and your idea into a story. You'll create a story brief, iterate and evolve your story through prototyping and gathering feedback, and hone your tone and style.
TEAM DEVELOPMENT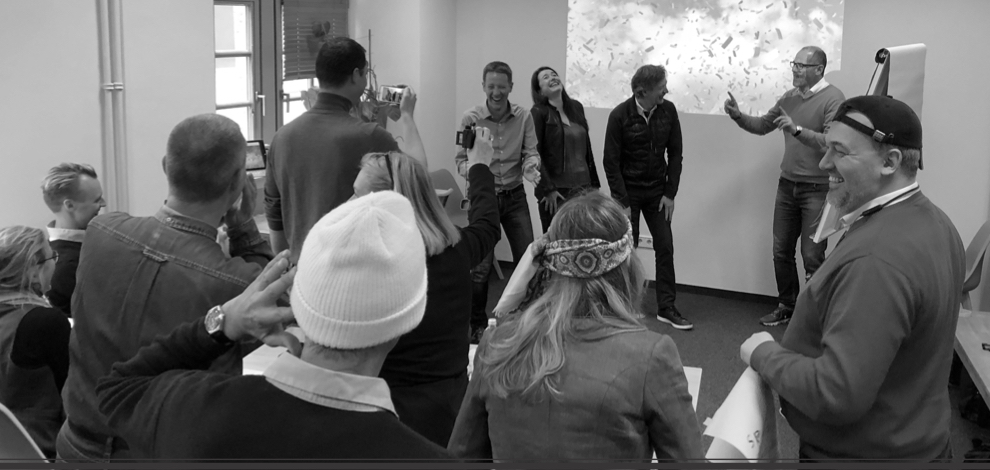 Team dynamics start with listening and understanding when to lead and when to follow. We facilitate your team from personal to collective listening and co-creation of a team soundscape or team song.
PLAY TO CHANGE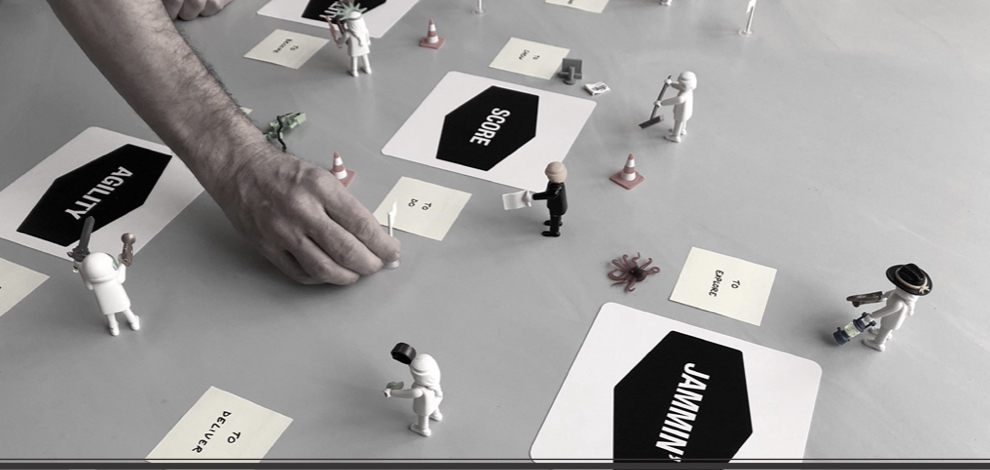 There are many instruments that can be played in a serious play business setting. We work with Playmobil Pro, Jam Cards, Lego, musical instruments or other playful material and strategies. We use them for strategic challenge finding and creative problem-solving.
BUSINESS IMPROVISATION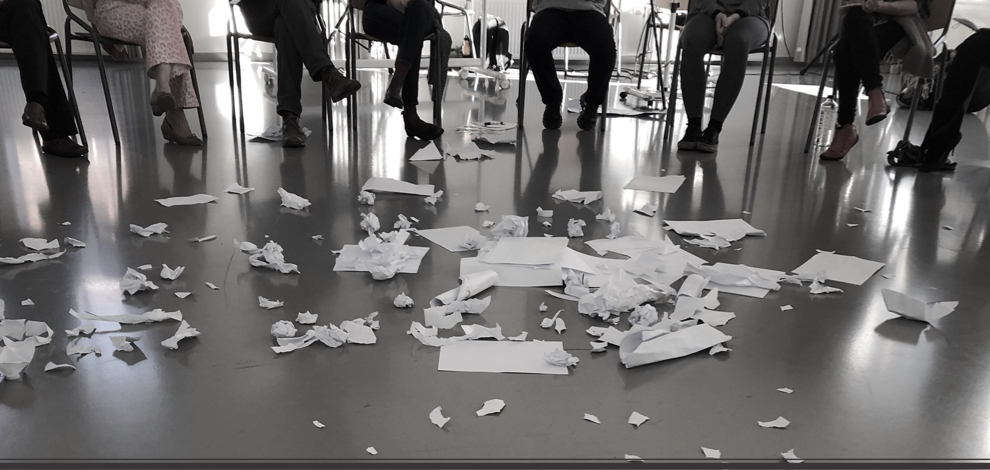 This fun and interactive course will help you to understand and practice the basics of (business) improvisation.
We show you simple tools for applied improvisational interactions that you can apply in your work. No experience in music or other arts is needed.
SERENDIPITY LAB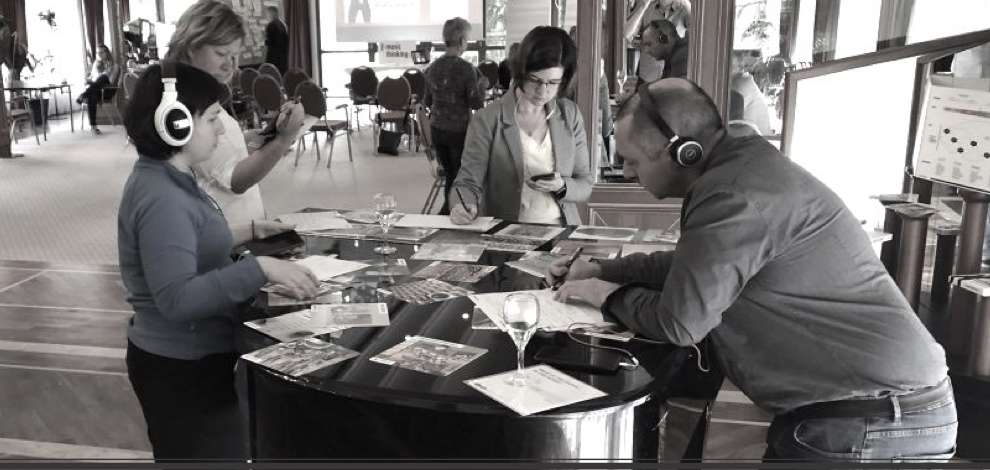 Serendipity Lab is a unique way of getting inspired while thinking outside the box. We use headphones together with the Jam Cards and the many triggers they give us. This is a great start to the day or a round-up of the ideation phase.
PATTERN WRITING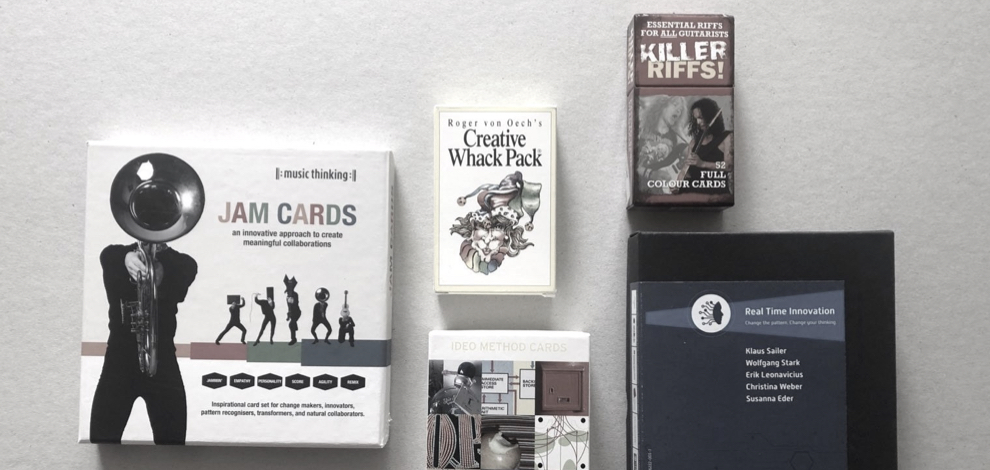 This pattern-based workshop helps you to find the success patterns in your organisation and the way you can use them as a pattern language for future innovation projects. We share pattern card sets from IDEO, the Jam Cards, Real-Time Innovation and more. This will be the start of your pattern-based library.
DEEP LISTENING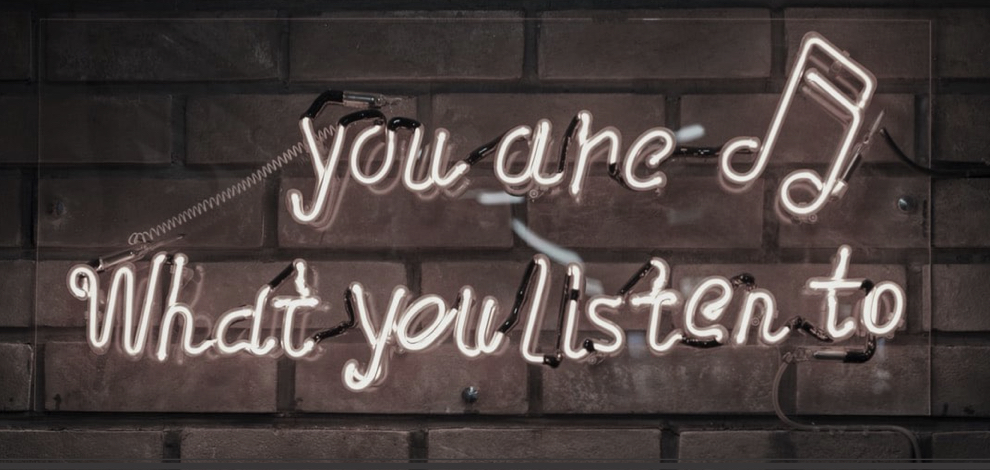 There is so much to say about listening, but in this course, we start with Deep Listening exercises and listening mind setters you can apply in your work. You learn about text compositions and the four listening positions from Theory U and what this means for the role of a co-creator.
THE COMPANY REAL SCORE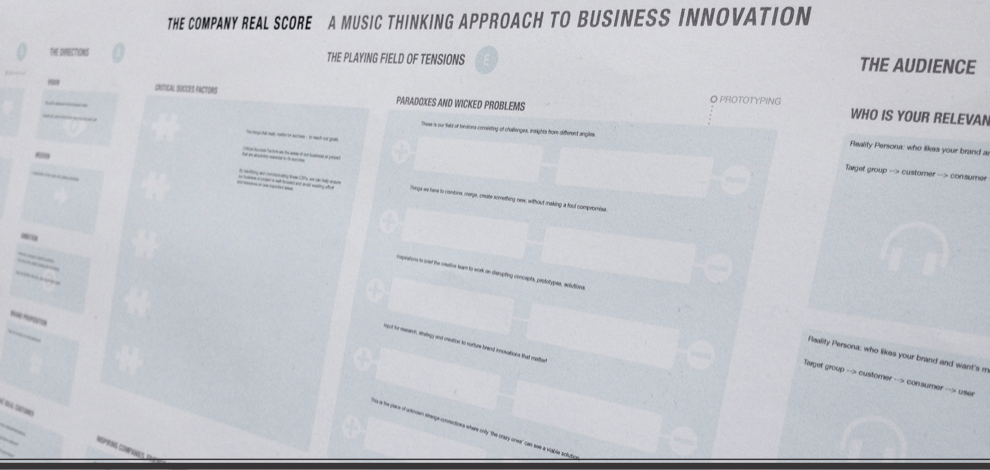 In this one-day strategic workshop or self-audit, you will create a SCORE of your organisation from purpose, to influences, quick profiles of your customers, critical success factors and paradoxes. This is the ideal workshop before starting a business model canvas.
Ideal for start-ups or intrapreneurs.
Who is your Audience? What makes them tick?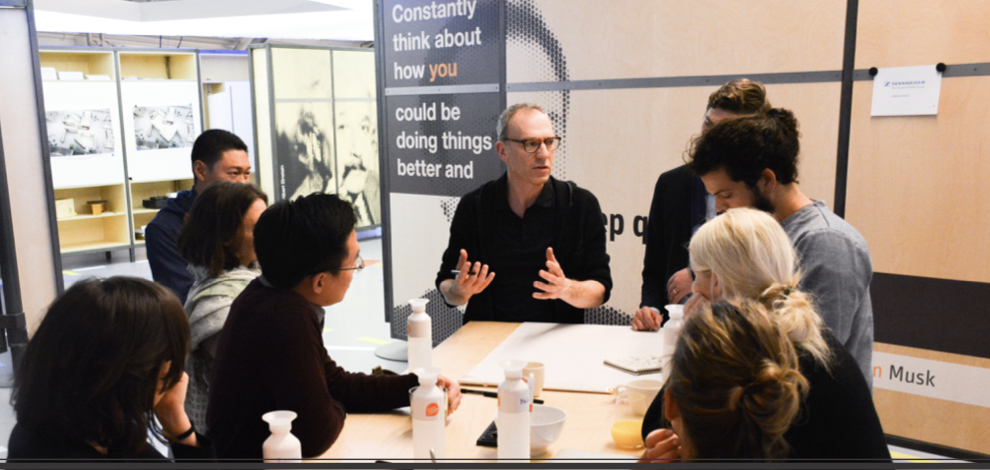 PERSONA MASTERCLASS
English
Who is your audience?
What is a quick profile? What is the difference between an 'aspirational persona', and a 'reality persona'?
In this masterclass, you learn how to save time with the use of personas and learn how to research, develop, design and use them effectively.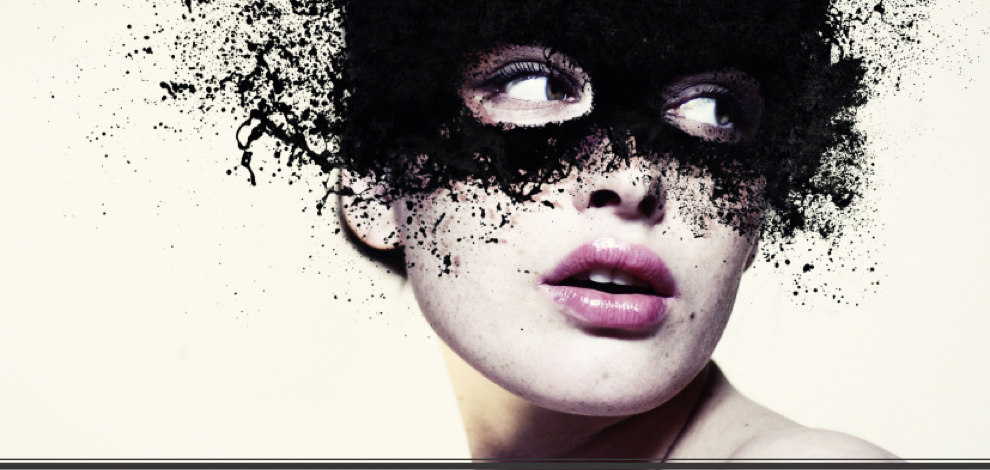 PERSONA MASTERCLASS
German / Deutsch
Wer ist Ihr Publikum? Was ist ein Kurzprofil? Was ist der Unterschied zwischen einer "Wunschpersona" und einer "Realitätspersona"? In dieser Masterclass lernen Sie, wie Sie durch den Einsatz von Personas Zeit sparen können und wie Sie diese effektiv recherchieren, entwickeln, gestalten und nutzen können.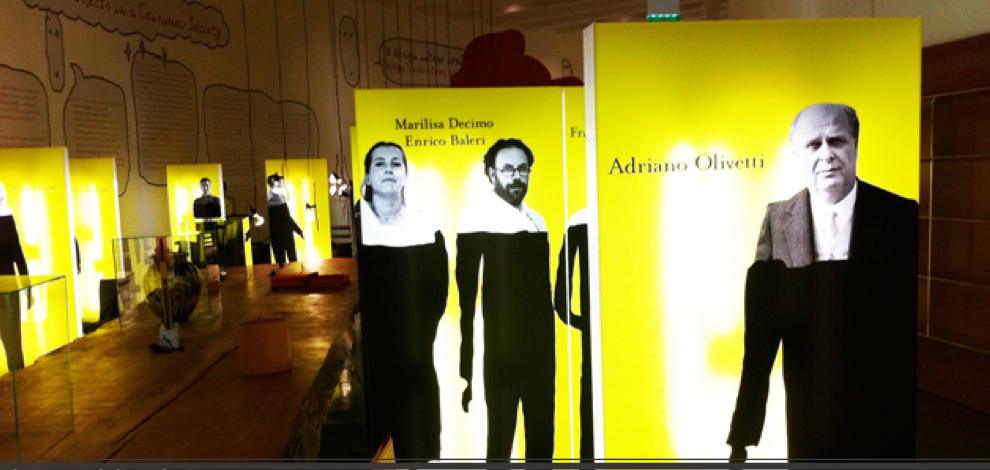 PERSONA MASTERCLASS
Dutch / Nederlands
Wie is uw publiek? Wat is een quick profile profiel? Wat is het verschil tussen een 'aspirational persona', en een 'reality persona'?
In deze masterclass leer je hoe je tijd kunt besparen met het gebruik van persona's en leer je hoe je ze effectief kunt onderzoeken, ontwikkelen, ontwerpen en gebruiken.
Getting it together: combine courses and methods
It is not about the method, it is about the goals you want to achieve.

That's why we are connecting service design, branding, agile methods and organisational change for meaningful collaboration. Because the methods sometimes work against each other and don't focus on what they have in common to reach your goals.
Are you interested in a custom-made programme? We design this around your particular objectives and challenges to guide you with the help of the music thinking framework. And after the workshop, we accompany you to get the learned things into practice – if you want.
We speak English, German and Dutch
and we use Miro, Mural, Zoom
and all the other online collaboration tools.
Share your Challenge and Ask for a Call
if you want, using this short form,
it just takes you a minute
Contact
via email for any questions