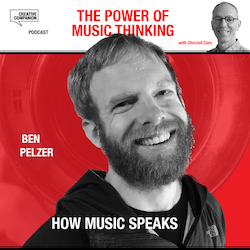 Today we are in Singapore; we talk with Benjamin Pelzer, Assistant Professor of the Wee Kim Wee School of Communication and Information at Nanyang Technological University.
Ben is trained in Music Theory and Psychology. He works as an assistant professor and scientist with expertise in the methods of cognitive neuroscience, machine learning, computational social science, and empirical psychology.
And Ben is teaching a one-of-its-kind course in the world of research on music as a sort of socio-cultural phenomenon and is using techniques from the field of communication and applying them to the field of music.
Our Conversation
We talk about how music and sounds can drive a particular scene of a film in two opposite ways, using a positive or negative valence soundtrack. And that music is almost uniquely powerful in its deeply emotional impact and ability to evoke complex or more profound, lasting emotions.
Ben shares with us that there are some universal features of music, like low tones are connected with sinister or aggressive emotions that are part of the evolution when big animals were a severe threat.
A little survey
And he conveys insights from a little survey he did with the multicultural students of his music course for The Power of Music Thinking podcast about how they listen to music in the context of Asia.
In his music course, Ben also reflects with his students questions like If you were alive 1000 years ago, what role would music have played in your life? And the realisation that for people outside of wealth and royalty, it would be folk instruments or just the human voice.
Ben shares with us some strategies of music; for example, if you use happy lyrics with happy music, you get less happiness than if you have happy lyrics with neutral music.
Good to know
For some themes we talk about, I have put links in the show notes, and if you look at them, please consider subscribing, comment, and give us a rating. This will help a lot to get the show going.
We had some connection issues, so please excuse the little dropouts near the end.
Listen to How Music Speaks with Ben Pelzer
Show notes
Like this show?
Subscribe to the podcast. Leave us a review — even one sentence helps!
I appreciate your support; it helps the show!
There is more about Music Thinking: a book, a blog and many more podcast episodes
The Power of Music Thinking is brought to you by CREATIVE COMPANION specialised in facilitating leaders, teams and organisations in customer experience, change and innovation.
Do you like books? Check out the new book: The Power of Music Thinking