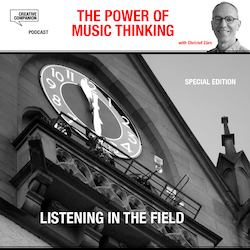 This is a special episode about listening in the field and some listening activities I did last month.
Hear more about a short field recording in the middle of the most dangerous roundabout in the Netherlands, about the visit to my birth town in the South of Germany, where I have recorded the Turmbläser, which are performing a sonic ritual since 400 years high above the belfry on all four balconies every Sunday.
And I also share some news, development, and info about the Listening Day at the Design Academy in Eindhoven.
Special thanks to the Turmbläser from the Musikverein for allowing us to listen high above the belfry and Cordula and Onkl Hanzl for all the info.
Listen to the latest episode.
Show notes
Like this show?
Subscribe to the podcast. Leave us a review — even one sentence helps!
I appreciate your support; it helps the show!

There is more about Music Thinking: a book, a blog and many more podcast episodes.

The Power of Music Thinking is brought to you by CREATIVE COMPANION specialised in facilitating leaders, teams and organisations in customer experience, change and innovation.

Do you like books?
Check out the new book and support us: The Power of Music Thinking