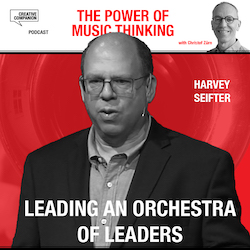 This episode is about art, innovation and leadership.
What is the relationship between art-based learning, innovation and co-creation? How do you lead an ensemble of leaders? Is a conductor actually just a middle manager?
Today we are in New York and talking with Harvey Seifter. Harvey is the founder of The Art of Science Learning, a US National Science Foundation-funded initiative that uses the arts to spark innovation in science, technology, engineering and education.
And Harvey is also a classically trained musician and formerly served as Executive Director of the Orpheus Chamber Orchestra. The only orchestra in the world that rehearses and performs without a conductor. 
Harvey shares with us insights on giving directions as a 'decision maker of last resort' – as he calls it – stimulating co-creation and what this means for the innovative power of the organisation.
Well, you can say we have learnings here for any organisation.
By the way: we recorded this episode via Zoom when Harvey returned just a few days from his Ted talk in Madrid; before the talk, he lost his voice and finally did the TED talk without repetition.
To spare his voice and energy, we stopped the recording at a certain point and agreed to have a second conversation in the very near future.
So listen to Part One with Harvey Seifter and how you lead an orchestra of leaders.
Listen to this Episode on Apple, Spotify, Google, … and click here to open your favourite podcast player.
Listen now to Leading an Orchestra of Leaders with Harvey Seifter
Show Notes
Like this show?
Subscribe to the podcast. Leave us a review — even one sentence helps!
I appreciate your support; it helps the show!

There is more about Music Thinking: a book, a blog and many more podcast episodes.

The Power of Music Thinking is brought to you by CREATIVE COMPANION specialised in facilitating leaders, teams and organisations in customer experience, change and innovation.

Support us!
Tell your friends about musicthinking.com and consider buying The Power of Music Thinking book and/or the Jam Cards.