We are in the in-between space; between music and business, education and performance, listening and understanding, and London and Tokyo.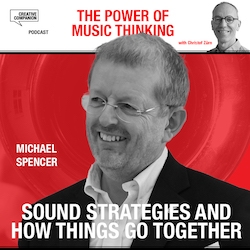 So, today we talk with Michael Spencer. Michael is the founder of Sound Strategies Ltd, a TEDx speaker, Visiting Professor at Ueno Gakuen University (Tokyo), and the Communication Director of the Japan Philharmonic Orchestra. He was Head of Education at the Royal Opera House in London and, as a member of the London Symphony Orchestra, worked with Leonard Bernstein, Deep Purple and on the Star Wars soundtracks with composer John Williams.
Michael gives us a deep dive into why music functions and shares the elements and learnings he used, for example, in the townships in South Africa and his work with companies like Unilever, BASF, IHG (Intercontinental Hotels Group), Daikin, and Fujitsu.
So, we talk about making better connections and how musical systems, timing, and structure help us to understand how things go together. And that music comes from the fact that it is some co-created system for creating relationships.
There is a lot to learn today – not only about music but also about business and society.
Listen now to Sound Strategies and how things go together with Michael Spencer
Listen now on Apple Podcast
Listen now on Spotify
Show Notes
Please choose one or more of the 3 ways to support the show!
Subscribe to the podcast. Leave us a review — even one sentence helps! I appreciate your support; it helps the show!
Tell your friends about the podcast and musicthinking.com
Buy the book The Power of Music Thinking and/or the Jam Cards.

The Power of Music Thinking is brought to you by CREATIVE COMPANION specialised in facilitating leaders, teams and organisations in customer experience, change and innovation.