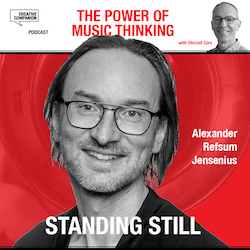 What is the use of standing still for 10 minutes? I was asking myself when I saw a post on social media. It was a double picture of a man with a mobile phone around his neck displaying some data, and another picture showed the view he saw at that moment. I learned that he stood there for 10 minutes without any movement, listening to the sound that was already there. There were many pictures like this, and I decided to get in contact.
So, today, we are in Oslo. We speak with Alexander Refsum Jensenius, a professor of music technology at the University of Oslo, a book author, a music researcher and researching musician working in the fields of embodied music cognition and new interfaces for musical expression.
Alexander shares with us his experiences while performing and testing with artistic methods of embodied listening and how people experience music and sound. This goes from experiments with and without the conductor of a Symphony Orchestra to the sounds of our kitchen appliances.
We talk about his motion capture lab, where a person's exact location and micro-movements can be detected while they hear different kinds of music, and how the researchers can understand what moves them.
Alexander shares insights about the Norwegian Championship of Stand Still, where until now, 1000s of people have participated, and the winner is the person with the lowest average velocity on standing the stillest over some time.
Alexander explains the interplay of body and mind and reveals some secrets on how to move people, for example, on the dance floor or to calm them down. It all has to do with our bpm, the average heartbeat of about 60 beats a minute.
Listen now to Standing still with Alexander Refsum Jensenius
Listen on Spotify, Apple or any other player.
Show Notes
Show support
Please choose one or more of the 'three ways to support the show'!
Subscribe to the podcast. Leave us a review — even one sentence helps! I appreciate your support; it helps the show!
Tell your friends about the podcast and musicthinking.com
Buy the book The Power of Music Thinking and/or the Jam Cards.

The Power of Music Thinking is brought to you by CREATIVE COMPANION specialised in facilitating leaders, teams and organisations in customer experience, change and innovation.