Special edition on DDW with Louis Moeckel and his Toy Dolphin project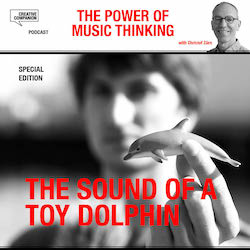 In October, I visited the Dutch Design Week in Eindhoven. It is an event and showcase of Dutch design with exhibitions, studio visits, workshops, seminars, and parties across the city. One of the highlights of this packed week is the Design Academy Eindhoven's Graduation Show. It is one of the world's most influential exhibitions of work by new designers. Staged annually during DDW, it allows both Bachelor and Master students to present their final projects to thousands of visitors in a curated environment.
So, welcome to this special edition of The Power of Music Thinking Podcast, where we focus on the sonic perspective of some projects with a music thinking approach.
One was the Clay Whistle from Ambre Pourcelot, a set of 'whistling jars' that invite playing with the flow of water to produce unique sounds. This performative installation of clay water whistles is inspired by pre-Colombian antic whistle jars used in shamanic healing rituals.
Tour de Contrôle, a project by alumni Lucien Nicou, was shown at the United Cowboys space and has been designed as a flexible system to be operated by musicians in a week-long residency of live experimentations and performances.
Each day, a new artist or collective was invited to test, experiment, create and perform during the day on the Tour de Contrôle – an instrument, object, installation, and sculpture that allows new ways of experiencing sound using spatialisation and visual translation. This control unit provides recording, slicing and modifying sound played through an 8-channel speaker system. LED stroboscopes and tungsten lights translate the sound in real-time as it travels through space.
Sonic Footprints and the Sound of a Toy Dolphin
And we have the research project "Sonic Footprints", which is concerned with the ecological consequences of noise generated by the industrial manufacture of products.
It all started with the question of what acoustic footprint everyday products actually leave in the landscape – and how this affects animals and the ecosystems.
For this project, Louis Moeckel, initiator, researcher and curator, aims to generate new ecological perspectives through a multi-perspective investigation of man-made noise.
Well I asked Louis to tell us all about his research and the creative outcome that will be presented, among other things, on a vinyl record with the help of two musicians who also played at the famous Berghain Club in Berlin. 
Listen to The Sound of a Toy Dolphin and get the pre-listen of the Techno Sound files that will go on the Vinyl record!
Listen on Spotify, Apple or any other player.
Show Notes
Show support
Please choose one or more of the 'three ways to support the show'!
Subscribe to the podcast. Leave us a review — even one sentence helps! I appreciate your support; it helps the show!
Tell your friends about the podcast and musicthinking.com
Buy the book The Power of Music Thinking and/or the Jam Cards.

The Power of Music Thinking is brought to you by CREATIVE COMPANION specialised in facilitating leaders, teams and organisations in customer experience, change and innovation.