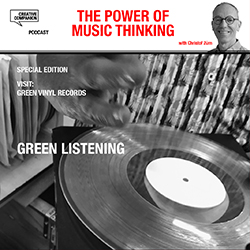 Special edition: Today, we reflect on the changes in the music industry and how we listen to music, from live concerts to streaming – via vinyl, CD, and download.
And we think about the impact of our choices, the impact on the environment and what medium and behaviour fit best to your listening experience.
Further, we visit Green Vinyl Records in the south of the Netherlands at their factory; we hear the sounds of production of a revolutionary approach to making the vinyl record business a green business.
And learn from them why their approach to producing vinyl records – that is, chemically not vinyl anymore – is 90% less energy-consuming than the traditional way of pressing vinyl.
That is also the reason why the BBC, ZDF, NOS, The Guardian and The Power of Music Thinking 🙂 visited the factory in the last month.
Watch out when you see GVR on the sleeve of your next vinyl record.
Listen to the podcast
Show notes
There is more: a book, a blog and many more podcast episodes
The Power of Music Thinking is brought to you by CREATIVE COMPANION specialised in facilitating leaders, teams and organisations in customer experience, change and innovation.
Do you like books? Check out the new book: The Power of Music Thinking
Please subscribe to the podcast and listen to the latest episode