Download the template and use it in a presentation or discuss it with your team.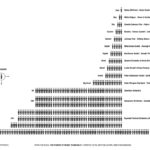 What if you look at your business endeavour from a musical point of view?
Let's have a look at the key visual "From Soloing to Orchestration graphic" from the book The Power of Music Thinking that you can download at the end of the page. It is free of use, and you can integrate it into your presentation.
What is it about?
The From Soloing to Orchestration graphic shows more examples of ensembles. Which ones do you know, and which ones apply to the way you listen? Explore the ones you don't know yet and find out more about how they sound and who they are.
Please remember that in classical music from approximately nine musicians, you need a conductor to synchronise and give the cues. With less than nine, one or more players will collectively sync and give cues. But, it makes a difference if you work with a very detailed score, a lead sheet, or just principles.
If you look at the business world and methodologies like scrum, the best size for a team is between four and seven people. For a scrum team, it can be beneficial to learn from different constellations, from quartets to septets, and what it takes when there is a change in the team.
Because you know the size or headcount alone doesn't make the difference.
Download the template
How would you scale this in your endeavour?
Scale-up does not just mean starting with a violin and adding more strings and other sections like woodwinds, brass, and percussion. Scale-up means seeing the whole field like a festival.

Christof Zürn
Read more about it in The Power of Music Thinking book.
Sharing is caring
Please share your outcomes, I am sure you will have unheard conversations: on LinkedIn, Twitter, Facebook
If you want more information, please consider buying the book.
If you need help with co-creation, strategy, change and innovation please contact us.
More templates to download
Map your ensembles.
From squiggle to sine – a musical way out of the chaos.
Musical expressions when working together.
The roles of a co-creator.
Guiding Principles for Business Improvisation.
Pattern Repository Graphic.
More Music Thinking