In the (German-speaking) LEA podcast "Developing Organisations" you get hundreds of tips on what you can do to make (your) company better. That's a promise by Christina Grubendorfer – an organisational consultant, moderator and podcaster. But not only that. You will be immersed in anything but superficial conversations. Every encounter with their guests is full of surprises. And in the end, everyone learns something. Every time. Because there is no hot air, but well-founded practical help at a high level of reflection.
Episode #75 Music Thinking – eine Analogie zur Lösung komplexer Probleme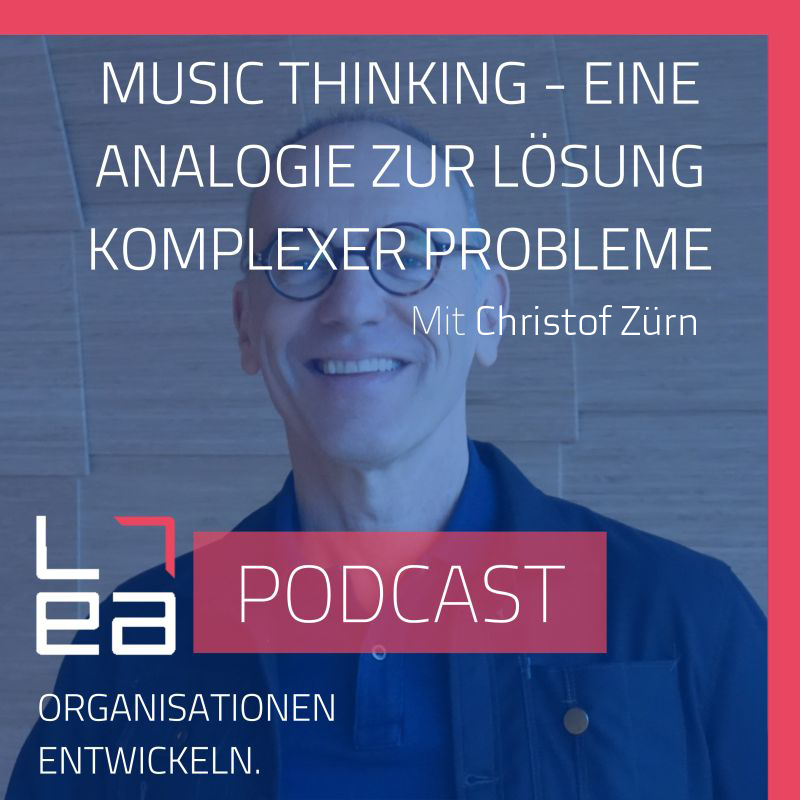 More options: Apple – Spotify – Episode Page
Show notes
Free Jazz, Punk, Metal oder Klassik? Solo oder Orchester? Musik als Analogie für das Miteinander in Teams oder auch für abgestimmte Prozesse in Unternehmen? Dazu hat Christof Zürn ein Denk- und Arbeitsmodell namens "Music Thinking" entwickelt. Wie man mit einer musikalischen Analogie Organisationen entwickelt, besprechen wir in dieser Episode des LEA Podcast.
Was ist, wenn Ihre Kunden und Mitarbeiter Popmusik, Jazz oder Dance verlangen und Sie trotzdem weiter Wagner spielen? Ist Ihre Organisation wie ein Sinfonieorchester, eine elektronische Musikproduktion oder doch eher wie eine Jazzband organisiert?
Im heutigen LEA Podcast "Organisationen entwickeln" sprechen wir über den Einfluss, den unser Musikgeschmack auf unsere Arbeitsweise und Selbstorganisation hat.
LEA Gründerin Christina Grubendorfer spricht mit Christof Zürn darüber, wie man mit einer musikalischen Analogie Organisationen neu entwickeln und mehr in Einklang bringen kann.
Christof Zürn ist Gründer von musicthinking.com und der Beratungsfirma Creative Companion, mit der er Führungskräfte, Teams und Organisationen bei Innovation und Transformation unterstützt. Mit seiner Erfahrung in den Bereichen kreative Führung, Markenentwicklung, Service Design und Unternehmensberatung bringt er seine jahrelange Erfahrung in innovativen und komplexen Organisationen mit in jede Zusammenarbeit.
Website Creative Companion: https://creative-companion.com
Website Music Thinking: https://musicthinking.com
Podcast: https://musicthinking.com/podcast/
Buch: https://musicthinking.com/book-the-power-of-music-thinking/
LinkedIn: https://www.linkedin.com/in/creativecompanion/
Twitter: https://twitter.com/ChristofZuern
Song Bungalow von Bilderbuch: auf Spotify anhören