Thursday, April 14, we celebrated the book launch at the BIS Publishers office and store on the Borneostraat in Amsterdam, during an intimate ceremony. Harm van Kessel, one of the new owners of BIS Publishers, celebrated the official handover of the new book "The Power of Music thinking" to the author Christof Zürn.
Christof has actively developed tools, training modules, and workshop plans to help people around the globe shape their professional development and he currently hosts The Power of Music Thinking Podcast.
New approach and meta language
The book offers creative minds a new approach and metalanguage that connects all patterns from different perspectives for a healthy business. It is essential that organizations are able to harvest a work environment where collaboration and teamwork work well to generate greater effectiveness. And with this purpose in mind, Christof wants to create parallels that can help companies achieve this goal by studying how musicians work together to find the perfect balance/harmony. A fun and unique analogy between music and creative business.
"Every business can be an orchestra, a big band, or any other ensemble, it's time to learn how to team up, play and perform."

Christof Zürn
Book launch at BIS Publishers – some pictures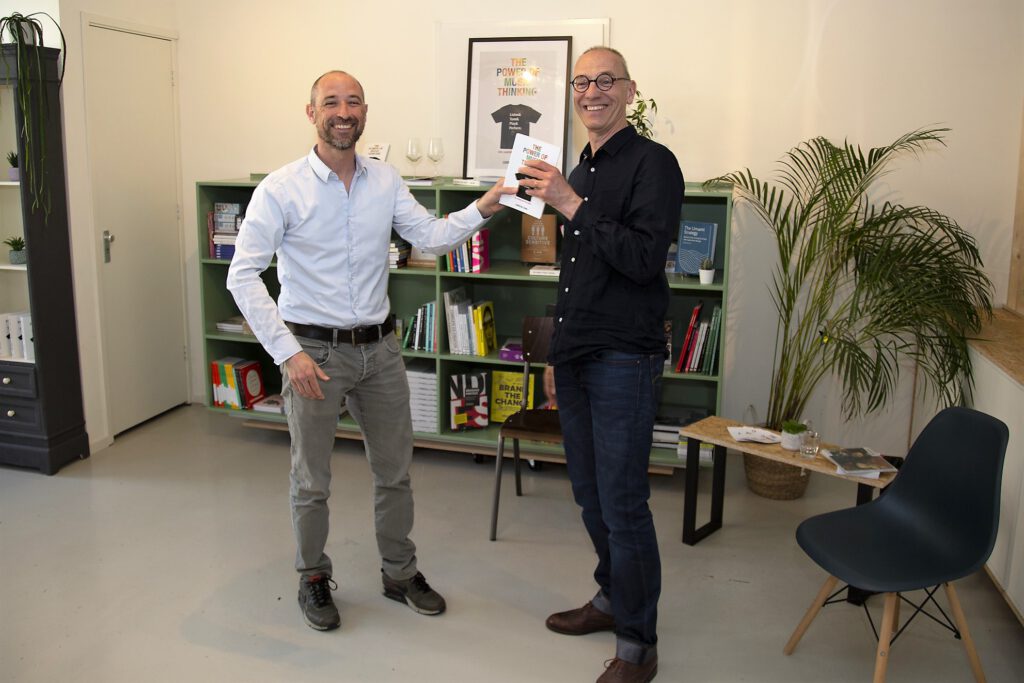 Besides the book, Christof also created the Jam Cards which consist of 38 inspiration cards and six cue cards. He used nine selected jam cards to give his Jam Cards Speech.
During the short but fruitful 2-hour event we welcomed the guests with bubbles and snacks while going through some of Christof's lines and notes during a Q&A (in Dutch) led by Roy Scheerder.
Mini interview in the (noisy) garden
O.k. this was the launch at BIS Publishers – now please buy the book 🙂
The power of music thinking and the Jam Cards are available online via the BIS Publishers Website, your favourite bookstore or the usual online suspects like Amazon, Bol, or Managementboek.nl.