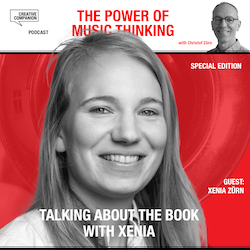 Today we switch roles: Christof asked his daughter Xenia to ask him anything about the new book: The Power of Music Thinking. Because Xenia was already a collaborator on the Jam Cards, a pre-reader of the new book and worked with her dad for many years, she can ask questions no one else could or would. They talked about leadership, followership, Service Design, the difference between metaphors and analogies, and why a book?
Be ready for a pleasant conversation between father and daughter about The Power of Music Thinking.
Listen to Talking about the book with Xenia
Show notes
More info
The Power of Music Thinking is brought to you by CREATIVE COMPANION specialised in facilitating companies in making brand minded and people-centred decisions.
Buy The Power of Music Thinking book
Listen to the latest episode of The Power of Music Thinking