Today we are in New Albany, Ohio. We speak with Paula White, a globally recognized sales leader, leadership coach and author of the book Side B: Remix Your Leadership Style.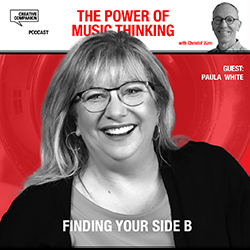 We talk about how music can (re)charge the way you are leading and how leaders can work on their behavioural traits based on music principles. Paula shares with us the ten archetypal instruments that are based on a scientific survey.
And Paula explains more about the saxophone type that came out of the survey I did before the conversation. All right let's dive into it.
Listen to Finding your Side B with Paula White
Show notes
More info
The Power of Music Thinking is brought to you by CREATIVE COMPANION specialised in facilitating companies in making brand minded and people-centred decisions.
Buy The Power of Music Thinking book
See the latest episode of The Power of Music Thinking