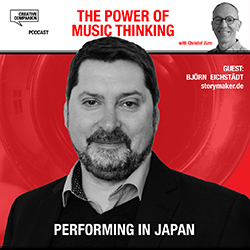 Today we are in München, Germany, talking to Björn Eichstädt, Managing Partner & Co-Owner of Storymaker and publisher of the digital magazine "J-BIG – Japan Business in Germany". He studied Neurobiology and was active in experimental music in the 1990s and 2000s. 
Björn takes us on a trip to Japan. From J-Horror Films, Japanese Spirits, Film music, audio innovations, sound aficionados and the Sound Design of the Tokyo Trainstation (note: I added the Yurakucho sound after the conversation).  
And he shares the business habits and the harmony aspect in collaboration, the 'performance thinking' of meetings in Japan and 'the customer is god' attitude.
But let's start with a warning, this is by far the most extended podcast in The Power of Music Thinking history, so if you are prepared to listen to 30 minutes podcasts, you might want to pause and listen further the next day.
Listen to: Performing in Japan
Show notes to Performing in Japan
Extra links to Films and Music mentioned in the conversation
More info
The Power of Music Thinking is brought to you by CREATIVE COMPANION specialised in facilitating companies in making brand minded and people centered decisions.
Buy The Power of Music Thinking book
See the latest episode of The Power of Music Thinking