This episode is about listening – deep listening®. My guest today is Sharon Stewart – creator of sound works, musician, poet, researcher, piano teacher and deep listener.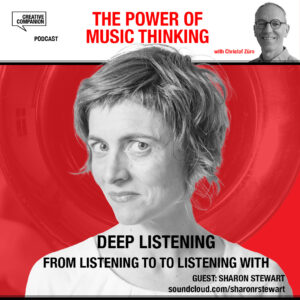 We learn about the Center for Deep Listening® at Rensselaer and the retreats that were held by composer Pauline Oliveros and the many ways to listen, for example like listening in dreams, embodied listening and that deep listening is about doing, writing, practising and experiencing.
We talk about 'text scores', guiding principles, and using this in a non-musical context. We also chat about the listening presence of leadership and that we all might benefit when this would shift from just 'listening to' to 'listening with'.
And Sharon shares with us her contribution to the 'Listening guide for quarantine' that was published at the beginning of the pandemic and an exercise of harmonious human interaction with sounding and listening that we also could do in a workshop situation.
Listen to the whole episode
Show notes
More info
The Power of Music Thinking is brought to you by CREATIVE COMPANION
More about The Music Thinking Framework, the Jam Cards and the blog on musicthinking.com
More Episodes of The Power of Music Thinking