This episode is about Innovation patterns and improvisation in organisations. Today, my guest is Prof. Dr. Wolfgang Stark – teacher and researcher specialised in organisational and community psychology and visiting fellow at the Vrije Universiteit in Amsterdam.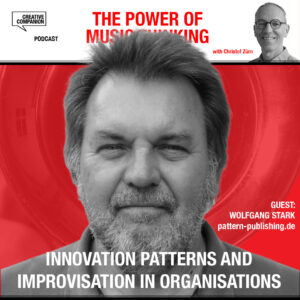 With natural sounds, like birds and wind in the background, we talk about how to co-create the sound of a company based on the processes of the organisation and how a jazz band can bring organisational scores to life.
We also talk about the reactable an electronic table that can be played by non-musicians like an instrument to learn co-creation.
We also chat about the difference between learning and organising and the meaning of improvisation in business and society. And we learn how patterns of success translated to a card deck can be used in co-creation, innovation and change. In the end, we hear about the innovative invention of 'the music box on a garden fence' that started in corona times.
Listen to the whole episode
Show notes
Listen in to a short clip on Agility
The Power of Music Thinking is brought to you by CREATIVE COMPANION
More about The Music Thinking Framework, the Jam Cards and the blog on musicthinking.com
More Episodes of The Power of Music Thinking