In this show, we talk about the mindset of entrepreneurship, leadership and design. We are in Boston and in Cyprus, we chat with Michael Hendrix, Partner and Global Design Director at IDEO and with Panos Panay, Vice President for Strategy & Innovation at Berklee College of Music. Michael and Panos talk about their experience as entrepreneurs, leaders, and executives and the interviews they did with musicians like Björk, Justin Timberlake and many others.
We speak about the creative mindset that designers and musicians share, the importance of emotional diligence and what David Bowie and Nokia have in common. We speak about what leadership can learn from music production, and that leaders in these times should rather look in the direction of a producer than a conductor. We hear that Design Thinking is less effective when used as a formula and that the musical mindset is applicable to everyone. And we talk about that the value of creative education and a musical mindset can have a great impact on business and innovation.
Here is a great excerpt from the talk:
If this resonates with you, you should definitively check out their new book Two beats ahead.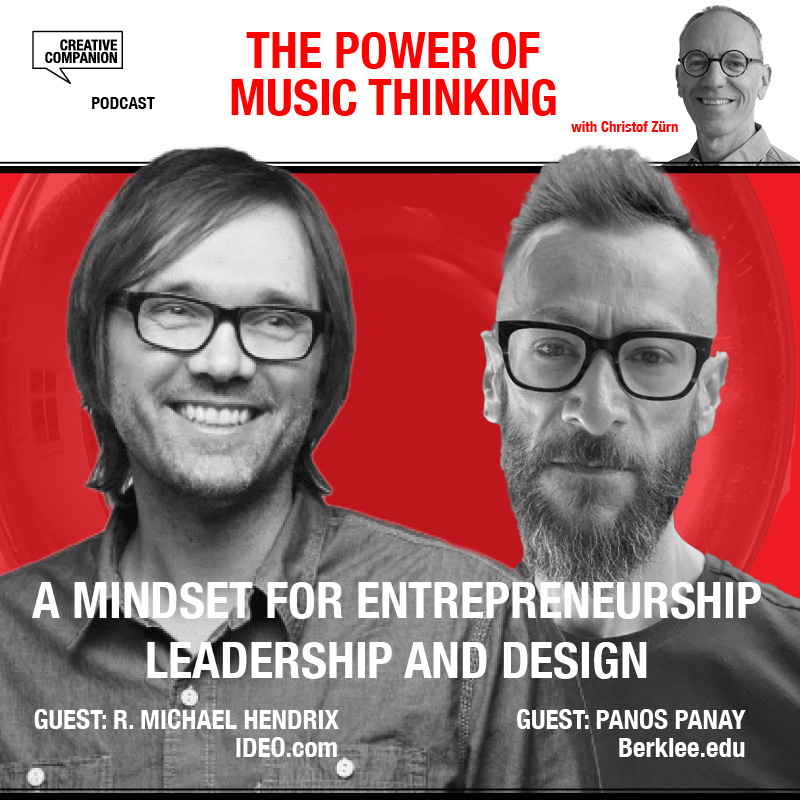 The Power of Music Thinking is brought to you by CREATIVE COMPANION
A short excerpt from the Two Beats ahead website
Everyone likes to talk about the entrepreneurial mindset and the mythical "innovator's DNA," but how do we actually get there? Having taught dozens of entrepreneurship courses between the two of us, we believe that the conversation around entrepreneurship is talking too much to the left brain and far too little to the creative right. We speak to people's logic but not to their hearts.
This book is the product of our own creative collision between the worlds of music and business. The two of us were first drawn to each other by our mutual love of music and our common start-up backgrounds. We both started businesses in our 20s — including a virtual textile sampling company and online music booking platform — that succeeded in part by challenging orthodoxies in our respective industries. Then, while developing and teaching courses at Berklee's Institute for Creative Entrepreneurship (based in part on IDEO's world-renowned design thinking principles), we began discussing the commonalities between the methods and mindsets of musicians and those of designers. What designers call prototyping, musicians call demoing, while iteration is a key aspect of innovation in both disciplines. The practice of observation, which musicians simply call listening, is integral to inspired application in both fields.
Listen and subscribe to the podcast on the following platforms

or wherever you listen to your podcasts search for
The Power of Music Thinking
More podcasts
Steve Keller, Blend sound science with sound art to make sound decisions
Roy Scheerder, Blockchain Philosophy and Collaborative Transformation for Change