Did you know that music can help you to rewire your brain? This episode is about the working of music on the brain and behaviour.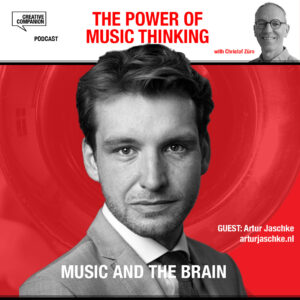 My guest today is Artur Jaschke – neuromusicologist and professor for music-based therapies and interventions at the ArtEZ University of the Arts in Enschede and he also works at the neonatal intensive care at a hospital in Groningen, the Netherlands.
We talk about how you can use music and sound for the advantage of healthcare, wellbeing and brain stimulation. We elaborate on themes like empathy and listening to unknown music or music that you might not like in the first place and the effect on your thinking and the basics of innovation and improvisation that can also be applied in a business setting. So, music and the brain is a great combination.
And we also speak about the joy and benefit of learning a musical instrument, like the Shakuhachi and the impact it has on the wellbeing and self-therapy of everyone in a stressed-out busy workplace.
Listen to music and the brain
Show notes
More info
The Power of Music Thinking is brought to you by CREATIVE COMPANION
More about The Music Thinking Framework, the Jam Cards and the blog on musicthinking.com
More Episodes of The Power of Music Thinking