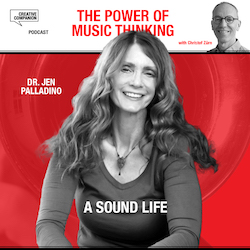 From the wild Punk scene in New York and London of the 70s to a sound healing practice in Los Angeles, my guest today is Jennifer Palladino, also called Dr Jen, a Doctor of Chiropractic, the Regional Director of the You Rock Foundation and a holistic health facilitator connecting mind, body and spirit with Chiropractic Sound Therapy.
Her musical experiences span from being a young performer wrangler at the American Ballet Theatre (while Mikhail Baryshnikov was Artistic Director) to work in the music industry and a mastering studio in New York to the legendary Marquee Club in London, where she made friends with members of the Punk and New Wave scene.
We talk about a rich life in music from the impact of the Beatles, the power of Punk, and an orchestra of instruments that she uses in her sound healing practice.
Jennifer shares with us some music hacks, like how different frequencies resonate with our body (which contains 75% of water) and how she uses tuning forks with slightly different frequencies to produce binaural sounds in a sound bathing session.
And she explains the full moon performances she is doing as "The Sound Healers" on the Hollywood cemetery, where Rudolfo Valentino and Judy Garland rest. An incredible collection of different sound experiences.
Listen to A Sound Life with Dr Jen Palladino – Sound Healing
Show notes
Like this show?
Please leave us a review — even one sentence helps!
Consider including your Twitter handle so we can thank you personally!
Please subscribe to the podcast and listen to the latest episode
Thank you for your support; it helps the show!
There is more about Music Thinking: a book, a blog and many more podcast episodes
The Power of Music Thinking is brought to you by CREATIVE COMPANION specialised in facilitating leaders, teams and organisations in customer experience, change and innovation.
Do you like books? Check out the new book: The Power of Music Thinking