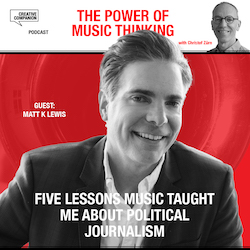 What has political journalism to do with music? Well, quite a lot.
My guest today is Matt K Lewis from West Virginia, a political columnist for the daily beast, former CNN contributor, TV commentator for MSNBC's morning show, a podcaster on Matt Lewis and the News (pun intended) and musician.
Matt shares with us that he started his career, or better, the foundation of his later career, in the basement rehearsing with his band. Years later, when already a political journalist, he reflected on his music years and wrote an essay about the lessons he learned from playing in bands and how they helped him to understand his work in political journalism today.
We talk about his musical upbringing, country music, steel and slide guitars. And make many analogies between music and journalism.
Here are the five lessons from his article that he explains in the show:
1. Having an audience of "followers" is vital.
2. Music, like TV commentary, involves performing.
3. Playing music (and being a political commentator) isn't nearly as glamorous as people think.
4. Not every song (or blog post or column) is a hit.
5. Collaboration is key.
O.k. let's get right into it.
Listen to What Music taught me about political journalism
Show notes
There is more about Music Thinking: a book, a blog and many more podcast episodes
The Power of Music Thinking is brought to you by CREATIVE COMPANION specialised in facilitating leaders, teams and organisations in customer experience, change and innovation.
Do you like books? Check out the new book: The Power of Music Thinking
Please subscribe to the podcast and listen to the latest episode
Like this show? Please leave us a review — even one sentence helps! Consider including your Twitter handle so we can thank you personally!
Thank you for your support; it helps the show!