How do you design for inclusivity? How do you get the right people on the team? What would a studio look like for a service designer?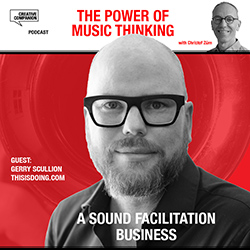 Today on the show we have Gerry Scullion. Gerry is the founder of This is HCD, the global human-centred design podcast and international design community of change-makers, and he is founder and CEO of This is Doing.com
In a 'previous life', he was a musician and songwriter who released two albums under the moniker: Minus Circus and worked with 13-time Grammy-winning producer Rafa Sardina.
A few months ago, I was a guest on his podcast, and we talked about the interrelationship of music and design and what design can learn from music.
So today, we talk about how the shared mindset comes back in the daily life of a facilitator, service designer and change maker.
Gerry gives us insights into how it was like working with a top-notch producer that had the experience, knowledge and ability to drill down and zoom in on a detail and then drill the whole way out to see the whole.
And we talk about bringing vulnerability and laughter to co-create innovation and engage people to be their very best.
(The instrument you hear in the beginning is the Theremin we talked about in our first conversation.)
Listen to 'Sound Facilitation Business
Show notes
More info
The Power of Music Thinking is brought to you by CREATIVE COMPANION
Learn more about The Music Thinking Framework, the Jam Cards and the blog on musicthinking.com or the Music Thinking LinkedIn page.
See the latest episode of The Power of Music Thinking