Today we speak with Marc Shillum, Designer, Creative Mind and trained musician.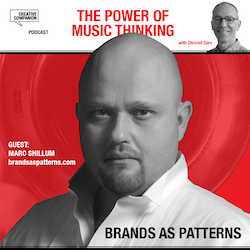 Marc was the founding Chief Experience Officer of Matternet, a pioneering transportation startup awarded World Economic Forum Technology Pioneer. In his role, he connected the dots between Customer Needs, Hardware Design, Software Design, User Experience, Visual Design, Business Strategy and Brand Building.
Marc has written OpEds for The World Economic Forum and Virgin Unite, delivered keynotes at SXSW, the Lego Marketing Summit, Nike Design Summit, and others.
And Marc is the author of 'Brands as Patterns', a white paper that opinion-makers like FastCompany, Contagious Magazine and PSFK have republished.
We have a wonderful conversation about analogies between design, business, the human body and music. For example, Marc shares the various roles of a trumpet player in an orchestra and his early experiences with improvising musicians like Graham Collier and Derek Bailey.
We talk about different leadership positions, from composing, orchestrating, and conducting and how different musical styles help us understand our business.
And we discuss the difference between frequency and cadence in an agile workspace and how brands can orchestrate their business successfully with patterns.
Listen to Brands as Patterns
Show notes
More info
The Power of Music Thinking is brought to you by CREATIVE COMPANION specialised in facilitating companies in making brand minded and people-centred decisions.
Buy The Power of Music Thinking book (April 2022)
See the latest episode of The Power of Music Thinking