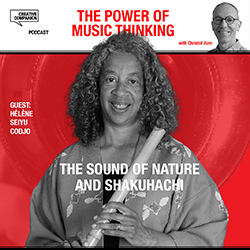 Today you can listen to a conversation with Helene Seiyu Codjo and the sound of the shakuhachi. Helene is a shakuhachi performer, composer and teacher.
"In the single tone of the shakuhachi, the whole of nature can be heard whispering its secrets." Dean Seicho Del Bene
We talk about the first memorable concert (there is one recital on Spotify with Miguel Ángel Estrella); how she came to the shakuhachi and how playing the shakuhachi has also something to do with 'letting go of your ego'.
Hélène shares a beautiful story about playing the shakuhachi in nature.
And we hear the Shakuhachi and a short recording outside in nature where we play together in a soundscape of birds, geese and men-made sounds.
Listen to the sounds of nature – Shakuhachi
Show notes
There is more: a book, a blog and many more podcast episodes
The Power of Music Thinking is brought to you by CREATIVE COMPANION specialised in facilitating leaders, teams and organisations in customer experience, change and innovation.
Do you like books? Check out the new book: The Power of Music Thinking
Please subscribe to the podcast and listen to the latest episode