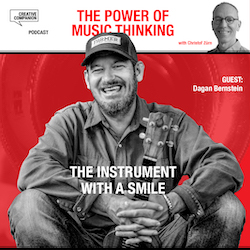 Today we are in Hawaii. We speak with Ukulele Player Dagan Bernstein, a teacher and musician passionate about designing and leading innovative educational experiences. Dagan is currently serving as Capstone Coordinator at an independent K-12 international boarding school in Hawaii with additional expertise in mathematics, music, and digital media instruction.
We speak about collaboration in the classroom, how to co-create with students and how this might be an inspiration for business people. And we talk intensively about the Ukulele, how he is using this in teaching, and some historical background, and we hear him play a tenor ukulele during the conversation like he would do at the farmers market at the weekend.
And we learn new Hawaiian expressions and mindsets like Malama Kaiaulu, the act of Kilo and Ike.
Listen to the episode about the Ukulele – the instrument with a smile 🙂 with Dagan Bernstein
Ukulele – the instrument with a smile – Shownotes
Here are some links to sources we mentioned in the talk.
Connect with Dagan
More info
The Power of Music Thinking is brought to you by CREATIVE COMPANION specialised in facilitating companies in making brand minded and people-centred decisions.
BuyThe Power of Music Thinking book to learn and find out more about Music Thinking and how to use this in your endeavour.
See the latest episode of The Power of Music Thinking