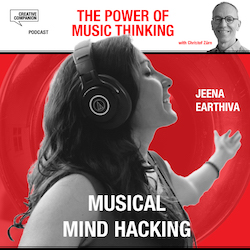 Today we are in Mumbai. We talk with Jeena Earthiva. Jeena is a Transformational Coach, a Producer with a master's in Computer Science, an ex-Bollywood singer, the Founder of Conscious Music Code, and a 'Mind DJ'.
Jeena conveys her story of a successful Bollywood singer who lost her voice at the top of her singing career and how she found and developed the 'Conscious Music Code' that helped her get back on track and start a new career as 'Mind DJ'.
We talk about the broad field of music between India and the West, and analogies between music and business. And the Koan of her mentor Dr Daisaku Ikeda, which became her life motto: "Transforming the life state of humankind". And, ta-daa, – this is a first – Jeena is singing live in this episode a Bengali folk song mixed with a Persian poem.
And be also prepared for a 6-minute musical mind hack exercise at the end of the recording that Jeena is performing for us. So, lean back and enjoy; if you are listening in from your car, we suggest you take a break or do the exercise at another moment.
Listen now to Musical Mind Hacking with Jeena Earthiva
Listen on Spotify, Apple or any other player.
Show Notes
Show support
Please choose one or more of the 'three ways to support the show'!
Subscribe to the podcast. Leave us a review — even one sentence helps! I appreciate your support; it helps the show!
Tell your friends about the podcast and musicthinking.com
Buy the book The Power of Music Thinking and/or the Jam Cards.

The Power of Music Thinking is brought to you by CREATIVE COMPANION specialised in facilitating leaders, teams and organisations in customer experience, change and innovation.