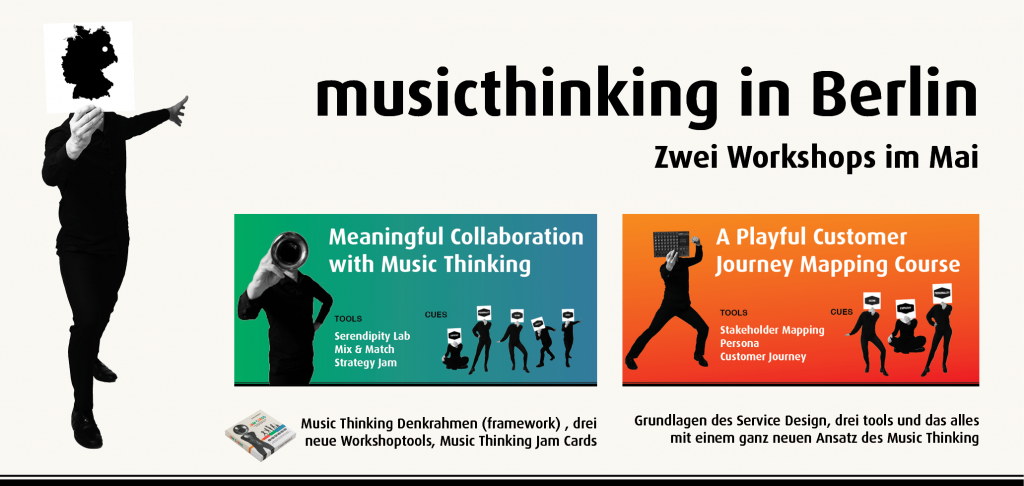 Yes, Music Thinking is coming to Berlin. Together with our friends from compassorange we are hosting two Music Thinking Workshops:
Man spricht Deutsch … the workshop is in the German language; however, it is possible to split the groups when there is enough demand for English.
You can book each workshop separately or together as a package.
Music Thinking kommt nach Berlin
zwei Workshops am 16. und 17. Mai 2019. Beide Workshops können zusammen und auch einzeln gebucht werden.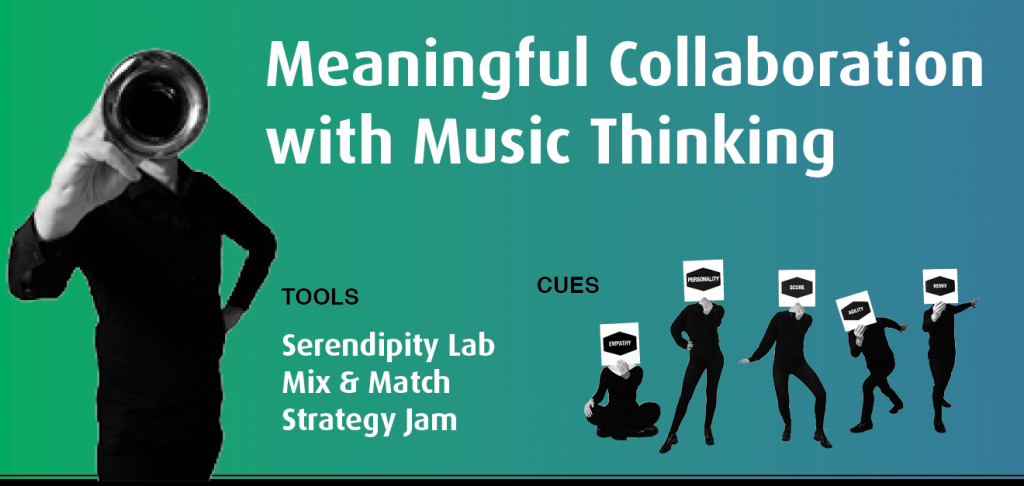 Wie Musikdenken uns helfen kann besser zu kooperieren. Sinnvolles Zusammenarbeiten mit dem Music Thinking Ansatz. Eine neue Sicht auf Kreativität, Kund*innenorientierung und Organisation mit dem Music Thinking Framework.
Sie lernen den Music Thinking Denkrahmen (Framework) mit seinen sechs Stichworten (Cues) kennen und arbeiten praktisch mit den Music Thinking Jam Cards und drei neuen Workshoptools, die sie nach dem Training direkt anwenden können.
Wer: interessierte Fach- und Führungskräfte, die ihre Organisation auf dem Weg zu mehr Kreativität und Kund*innenorientierung unterstützen wollen.
Wann: 16.05.2019, 9:30 – 17:00 Uhr
Wo: Berlin, Ort wird noch bekannt gegebenen
Kosten: 595 € zzgl. MwSt., Early-Bird: 495 € zzgl. MwSt. bei Anmeldung bis 6. März 2019
Anmeldung unter info@compassorange.de
Moderation: Christof Zürn, Autor der Music Thinking Jam Cards und Gründer von Musicthinking.com, und Carolin Gebel, geschäftsführende Gesellschafterin und Senior Beraterin von compassorange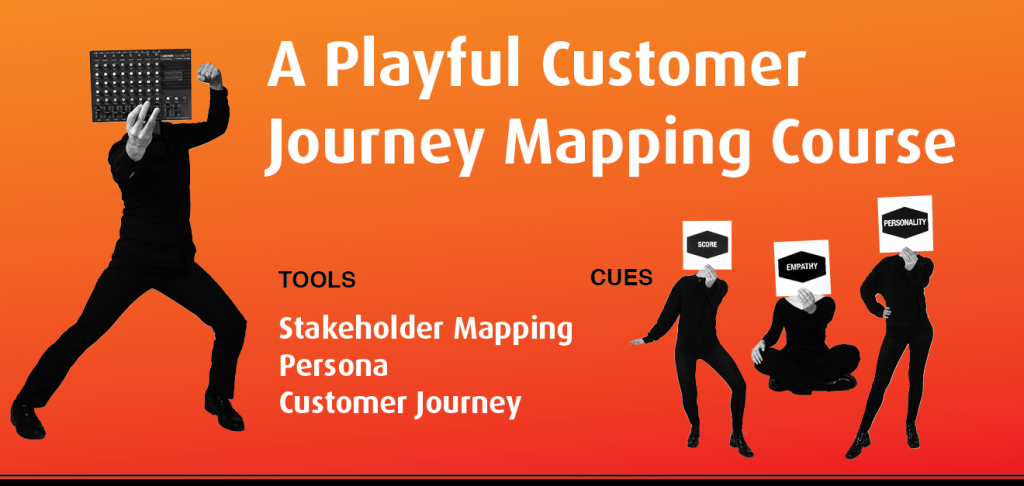 Wie Musikdenken uns hilft Kund*innen und Mitarbeiter*innen mit ihren Bedürfnissen besser zu verstehen, zu visualisieren und sinnvolle Produkt-Services zu initiieren. Service Design Thinking mit dem Music Thinking Ansatz.
Sie lernen, was die Grundlagen des Service Design sind, wie man die drei Tools Stakeholder Mapping, Persona und Customer Journey sowohl bei der Untersuchung als auch bei der Zukunftsblaupause einsetzt und das alles mit einem ganz neuen Ansatz des Music Thinking, der das Verständnis und den Einsatz einfacher macht für Ihre Kund*innen-, Mitarbeiter*innen- oder Nutzer*innen-Journey.
Wer: interessierte Fach- und Führungskräfte, die einen neuen Ansatz zum Service Design Thinking suchen
Wann: 17.05.2019, 9:30 – 17:00 Uhr
Wo: Berlin, Ort wird noch bekannt gegebenen
Kosten: 595 € zzgl. MwSt., Early-Bird: 495 € zzgl. MwSt. bei Anmeldung bis 6. März 2019
Anmeldung bis 22. März 2019 unter info@compassorange.de
Moderation: Christof Zürn, Autor der Music Thinking Jam Cards und Gründer von Musicthinking.com, und Carolin Gebel, geschäftsführende Gesellschafterin und Senior Beraterin von compassorange