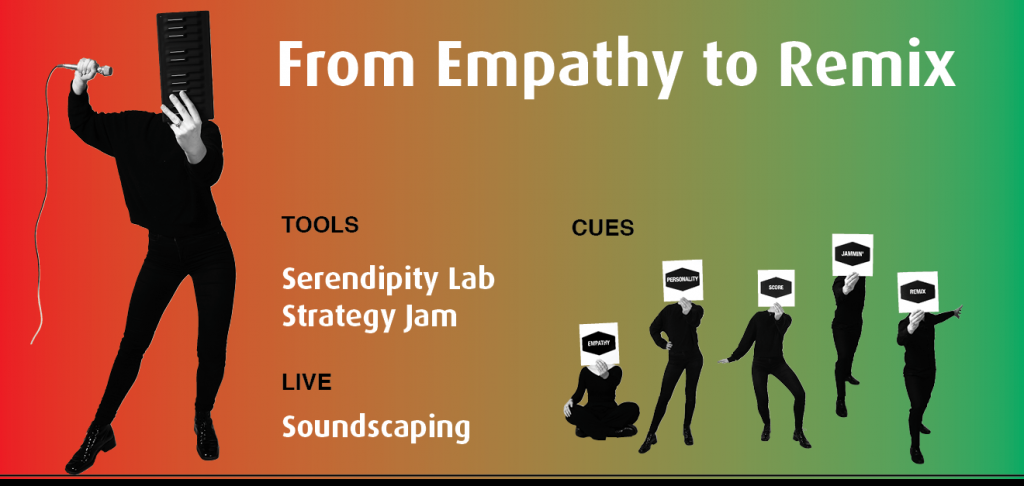 1-Day Team Workshop, From Empathy to Remix
Music Thinking gives another dimension on service design, design thinking, agile and organisational change.
Music Thinking is a method to create meaningful collaborations. With the six cues, an iterative dynamic model and a variety of music inspirations the workshop is full of new perspectives.
This 1-Day team workshop is ideal for in-house teams working on company values, team building or organisational change subjects.
We will lead you through all four steps of the Music Thinking Framework: Listen, Tune, Play, Perform. We work in a four-movement-setup in different constellations from solo, duo, trio to bigger ensembles to work on your specific challenge.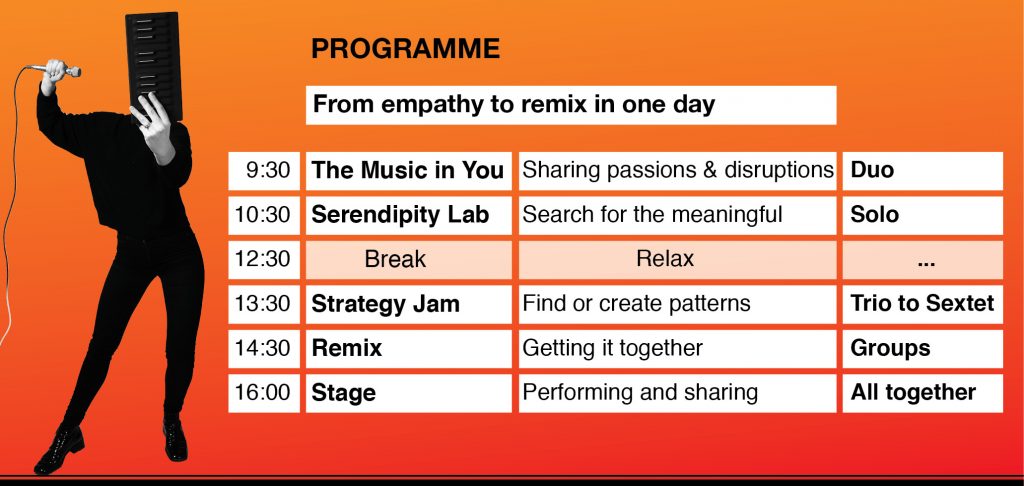 This team workshop will give you a common level of understanding of Music Thinking, the Music Thinking Framework and some new tools. The focus of this course will be on this hands-on part, learning by exploring and experimenting while working on your challenge. The tools we will practice in this course are Serendipity Lab and Strategy Jam. The results will be 'remixed' in a soundscape or a performance.
LEARNING BY EXPERIMENTING
We start the workshop with The Music in You duo exercise to connect the participants on a personal and emotional level. As an extra a questionnaire is useful to prepare this before the workshop.
Instead of directly interacting with the other participants you take some quality time and connect with your personal experiences, thoughts and open up for serendipity. This will give you space to explore your individual starting points and will create material that you can contribute to the collaboration. In Serendipity Lab you play alone, with headphones. You will explore different ways of generating material to start the next exercises.

In Strategy Jam you will play together with a group and start with one of the jam cards to work on your challenge. Depending on the challenge and the size of the group you will work with more cards to develop a bigger picture.

The Strategy Jam will deliver some material that we will use in the next step, where we are working on a Soundscape or Team Song to REMIX everything you have found interesting to share. We work with an easy to use software on iPad or MacBook and use the sonic triggers from the Jam Cards plus collected material and sound bites to make REMIX or alternatively perform it in a spoken word rap style to present the outcomes of the day.
As an extra we can provide a production of the soundscape to send to all the participants as an mp3 after the workshop.
OPEN TRAINING
We are working on a variation to make this team workshop suitable for open training. At the moment we are planning open courses in Amsterdam, Nijmegen, Eindhoven and Berlin. Please register for our newsletter or connect via Twitter, Facebook and LinkedIn. We send you a notice if a new course is online.
IN-HOUSE
This 1-Day team workshop is ideal for in-house teams working on company values, team building or organisational change subjects.
We can also offer you a tailor-made coaching program designed around your specific team objectives to guide you through the Music Thinking process and framework. It is possible to combine this course with branding, agile and organisational change.
The Music Thinking coaches are happy to facilitate you in your project or programme. Please provide us with your particular needs and reach out to us for more information