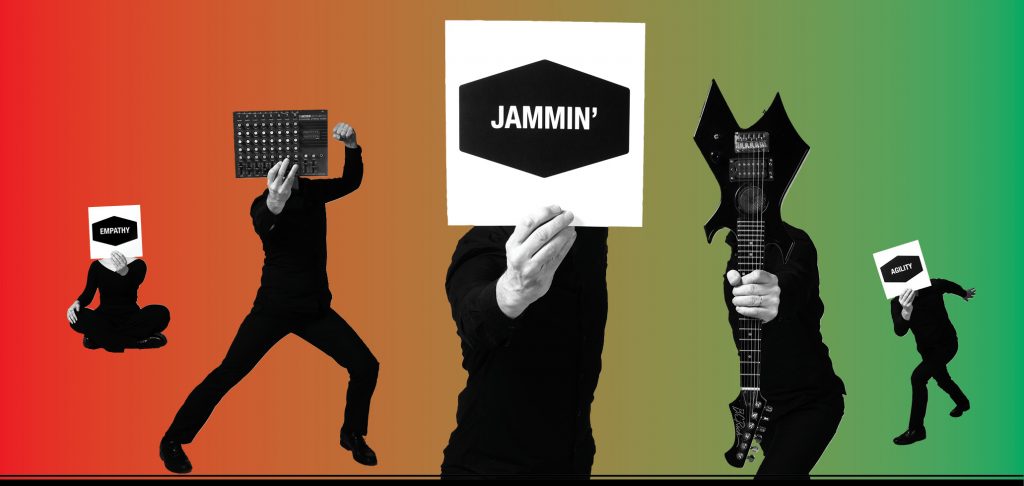 Like music, the music thinking workshops and programmes have different formats and styles for different occasions, goals and line-ups. All of them are connected with the six cues of Music Thinking: Jammin', Empathy, Personality, Score, Agility and Remix. It is possible to start with one type of workshop and later connect with a different kind.
Typically we have three starting points or directions to start with:
Creativity: From Jammin' to Remix
Service Design: From Empathy to Remix
Organisational Change: From Personality to Remix
Everything is dependent on the question or goal you have as an individual, team or organisation. The workshops are possible from a ½ day 'introduction jam' to a 6 day 'from empathy to remix' programme.
One-Day-Workshop – From Empathy to Remix 
We work in a four-movement-setup in different constellations from solo, duo, trio to bigger ensembles.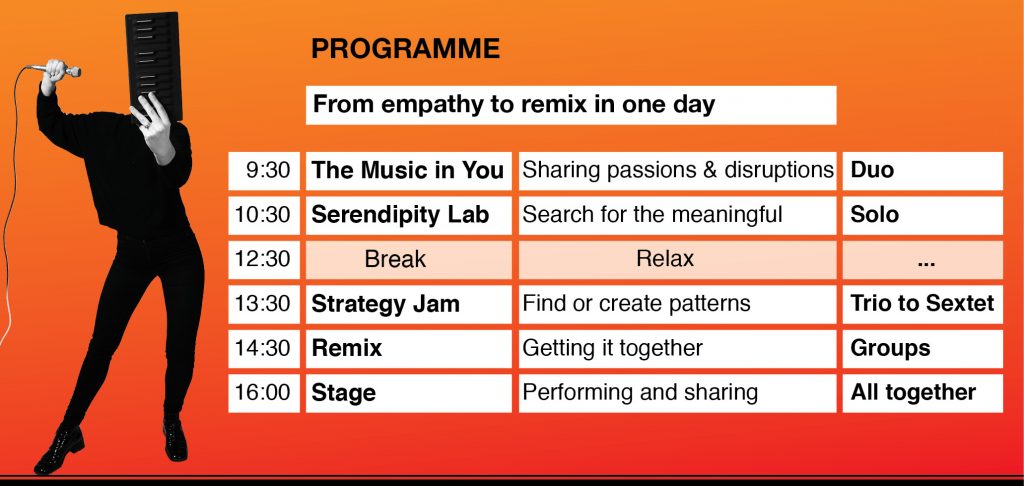 More Music Thinking Formats:
½ day 'introduction jam'

The Intro Jam is a great way to playfully think about the most import things that are playing and what questions should be raised.

We work with the Inspiration card set and also have time for short musical interactions (no skills needed).

1 day 'The Company Real Score'

One day mapping workshop from why, how, what, brand expressions, high level persona's to paradoxes and critical success factors.

1 day From Empathy to Remix

The music in you, Serendipity Lab, Strategy Jam, Remix what you have.

For purpose finding, ideation, collaboration.

6 day 'from empathy to remix' programme

Every day will be central to one of the cues of the music thinking framework.

The programme starts with either JAMMIN', EMPATHY or PERSONALITY and will always end with REMIX.

Masterclass on the Music Thinking Framework and how to foster Brand Minded & People Centred Innovation

Keynote on Music Thinking