Vision, mission, goals, targets, why, how and what are inevitable words in the business vocabulary. We spend time and money to find out who we are, how we can grow our business and the way that leads us to big hairy audacious goals. And from time to time we change this because we encounter new possibilities or constraints. But what about the things that help us shape this bright future? What about the means, the tools, the instruments we are using to reach what we want?
With tools I mean a vast field of artefacts that could be for example the Stradivarius of a violinist, the Selmer Mark VI Saxophone of a jazz player, the self-made tools of a Japanese joiner, your favourite whiteboard marker, your MacBook Pro, or the online tool you use for customer journey mapping. So, how does this resonate with you?
Are we using the right tools? And are we using them in the right way? Are there useful tools we don't know, old or new? What are tools anyway?
The Tools Card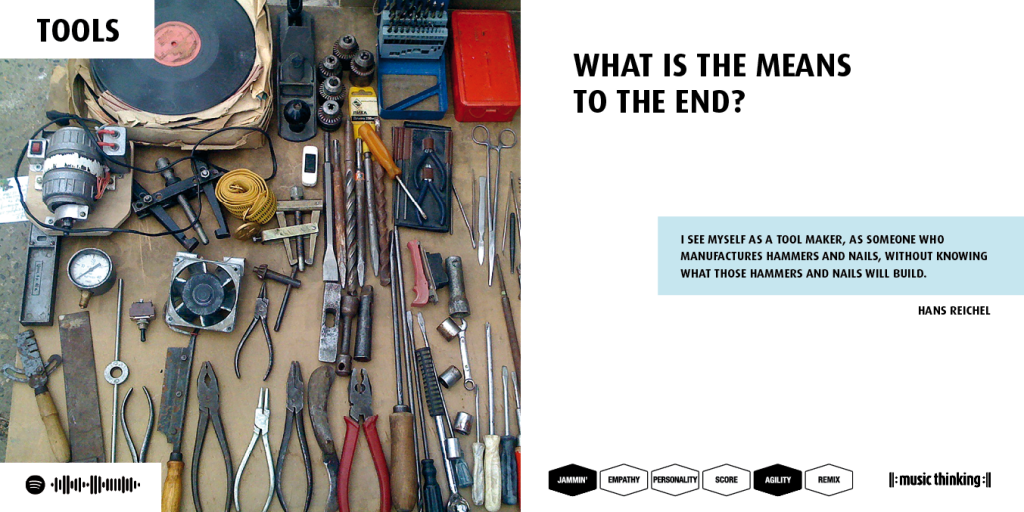 In what way might tools influence our thinking, our behaviour and eventually our success? Think about the tools, instruments and tooling you use every day as a person and/or a company. What does this say about you? How do you maintain the tools? How do you choose them? Which one do you throw away after use? And which are a companion through your (business) life? You might use these questions and the 'Tools Card' as a discussion starter with your colleagues, family members or just with yourself.
The picture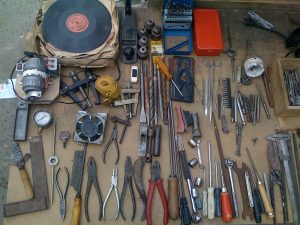 One of the advantages of a musician is the time you can spend between rehearsals, meet-ups and concerts. It is the quality time when you can de-focus, explore the neighbourhood, kill some hours and be open for serendipity. One of these moments brought me to a market in the Russian city of Krasnodar, it was at the beginning of the 90s while travelling with the improvisation group Raum-Musik for Saxophone. In the open, there was a huge flea market, with very diverse offerings. It was the first time that I realised that there is a demand for single shoes. So if your left shoe is broken or lost, you don't buy a pair of new ones but just a replacement. This was not only one stand that offered single items, but it was also a characteristic pattern of singularity. Looking for patterns I was on the outlook to find unseen things.
This finally brought me to the stand where the offering was a set of second-hand tools like screwdrivers, Phillips screwdrivers, drills, a computer ventilator, electro-motor and a pile of records. Wait a minute, a pile of records? I tried to make connections between all the items and they made more or less sense as most of them were tools. So I thought about the relationship with the pile of vinyl records. How could a record, or better music be a tool to fix something? It was this moment that sent me on the track of Music Thinking and how music could be of any help or use.
The quote
I see myself as a tool maker, as someone who manufactures hammers and nails, without knowing what those hammers and nails will build.
Thinking about tools and music, I eventually came across the quote of Hans Reichel. He was a musician, inventor, luthier and designer. He is the inventor of the daxophone and the dax typeface. The commonalities are the shape. I am fascinated by his inventions and design, and especially I like that he used the same principle to design an instrument (the dax you are holding in your hand to change the pitch) and the basic shape of the typeface. For me, this is music thinking par excellence.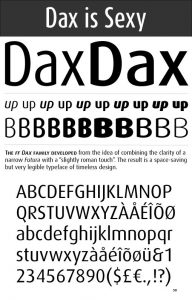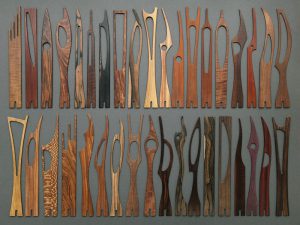 The music
In Harmony with Henry the Horse on Lower Lurum by Hans Reichel. I encountered this music many years ago and fell in love with the sound, but the real shock or nice surprise came when I saw the beautiful tongues he invented and the way how the instrument is played. I had the chance to later make a daxophone of my own in a workshop led by inventor and musician Yuri Landman.
The cues
There are six cues in the music thinking framework. My first thought is that if we want to do some JAMMIN', we need something, a tool. And you can only work in an agile way when you know your instruments and how to use them, even more, when you have to work together with others.
Note: There is no direct line between JAMMIN' and AGILITY on the framework, it needs PERSONALITY (the right tool according to why and how we operate) and SCORE the right thing that fits to what makes sense (JAMMIN' and EMPATHY).
Special thing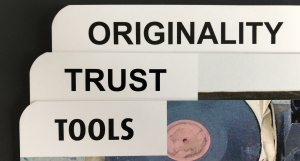 The Tool Card is unique in the Jam Card set in the way that this is the only card that uses a different typeface then all the other cards. All the cards use Helvetica, but the Tools card is using the typeface Dax. This card is a homage to Hans Reichel, and his versatility as luthier, musician and font designer.
Music Thinking Jam Cards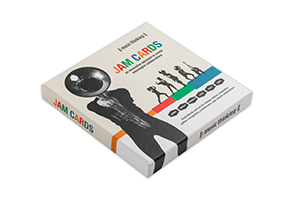 An inspirational card set for change makers, pattern recognisers, innovators, transformers and natural collaborators. The Jam Cards consist of 38 inspiration cards and six cue cards. All inspiration cards have a keyword, a visual and a sonic trigger, a trigger question, an inspirational quote, and six cues that connect with the Music Thinking Framework. You can use the cards from a strategic point of view, knowing what you want or need and a serendipity approach open to everything that will happen. 'Music Thinking' lets people work and play together in a new way with inspirations from the rich world of music.
Order the Music Thinking Jam Cards.
You can order the jam cards via your local bookstore (worldwide) and have a nice chat with the people there and try the cards right away, or just buy them directly at BIS Publishers.
Yes, you can also find them at Amazon.com, Amazon.de, and Bol.com