Epiphany 2022
What is the use of ideas if you cannot share them with others? This was a question that teased me for some time. I developed a framework and ideas to bring musical principles to the business table many years ago. The idea was to learn from the international, universal and multifaceted world of music, get fresh new perspectives and find analogies that foster original and meaningful thinking.
Eventually, I started to write down my thoughts, and at the beginning of last year, I had an early manuscript ready to show to some friends. Music Thinking – From Empathy to Remix was the title. I got some friendly feedback, and made some amendments, but somehow I got stuck. I wanted a book that I would like to read and what I read was not that book. So I put it aside and gave it a rest.
Epiphany
At that time, I got invited to several podcasts and talks to speak about my experiences in co-creativity, service design, organisational change and branding. And the musical analogies and ideas that went along with this. When I listened back to the recordings, I liked what I heard and was surprised by the fluid way of my own explanations. And there I had an Epiphany that talking is my writing and that this would be the way to finish the book.
Heinrich von Kleist
This sudden realisation also reminded me of a text I read many years ago by the German poet, novelist and journalist Heinrich von Kleist. Its title is on the gradual production of thoughts when speaking, or in German "Über die allmähliche Verfertigung der Gedanken beim Reden". Today we would say this is a creative technique to prototype, generate ideas and sharpen your thoughts. Or just the invitation to go out and speak with other people, share your thoughts and get better together.
The Power of Music Thinking
And this is why I started my podcast, The Power of Music Thinking to share my thoughts with exceptional people working in a specific field and being musicians. Besides the effect of the gradual production of thoughts during speaking, the podcast is an invitation to think musically and give people operating in two fields simultaneously a forum – to share their thoughts and promote their way of working.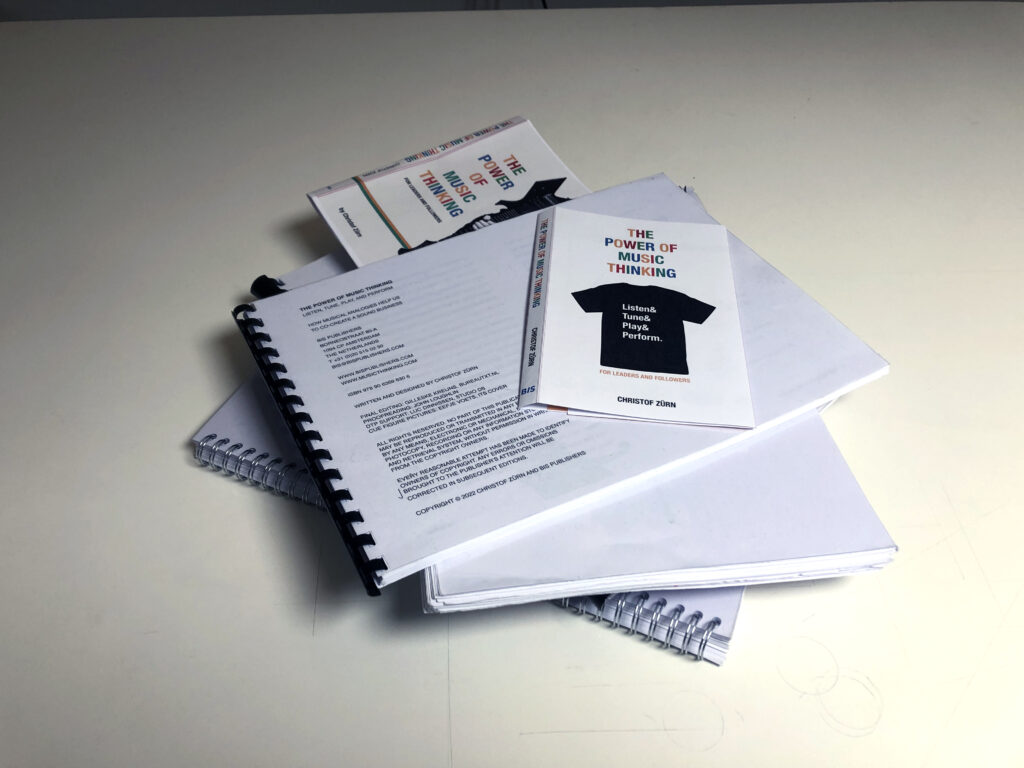 Based on this epiphany, I finally re-wrote, re-structured and re-designed the book that – as we speak – is on its way to the printing press.
BIS Publishers will release the book in April 2022 (Europe); the rest of the world and the US will follow a bit later in autumn.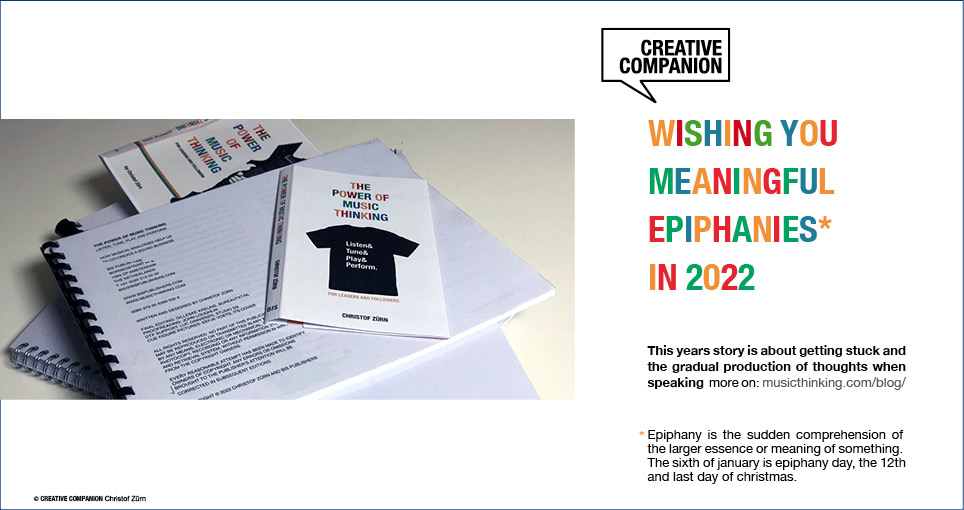 I wish you have many epiphanies in 2022, positively impacting the planet, our society, and yourself. Have a great year!
THE POWER OF MUSIC THINKING
HOW MUSICAL ANALOGIES HELP US TO CO-CREATE A SOUND BUSINESS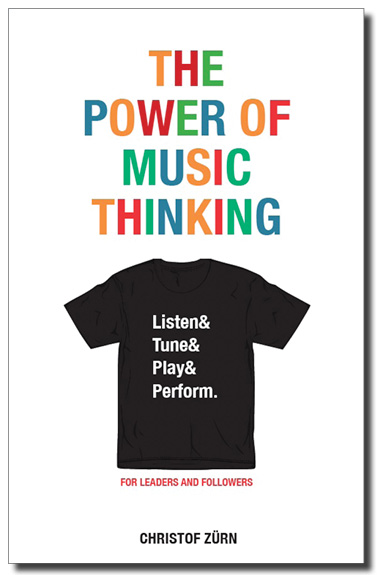 Paperback with flaps
208 pages
20,3 x 13,5 cm
ISBN 97 890 6369 630 6
available in April 2022 at your local bookstore
If you want to know why there is a T-Shirt on the cover, why the book is in black and white and who endorsed the book follow Music Thinking on LinkedIn, Twitter, Instagram, Facebook or subscribe to the newsletter.