Knowledge speaks, wisdom listens is a quote by Jimi Hendrix.
Maybe there are so many things said about listening that we might not want to hear any more about it. But is it really listening we mean or just hearing? What's the difference?
Let's do an experiment: close your eyes now for 20 seconds and focus on everything that you can here in this very moment. Listen to the loud sounds – maybe there are people in the room or sounds outside – but also to the very soft sounds, tones that you might not have noticed before. Concentrate on all possible sonic expressions and listen deeply to the sounds that are there.
Done? Now compare these experiences with what you heard the last time you have entered a room with people. You might have been in a conversation or heard some random voices or sounds.
This is actually the difference between hearing and listening. Our ears are always open; every moment we get new information via our ears into our brain. Our ears function as a sense organ. Listening needs focus and attention.
In the Music Thinking Framework the Listen step is the first of the four steps and is consequently also active during the others. This means that we should switch from just hearing what is there to listen to what needs attention. As a result, Listen is not just about the data but about the meaning of it.
The Listen Card
The essence of the Listen card is to establish active listening. Listening can be a leadership practice to move from knowledge to wisdom. Or in other words to find the signal in the noise.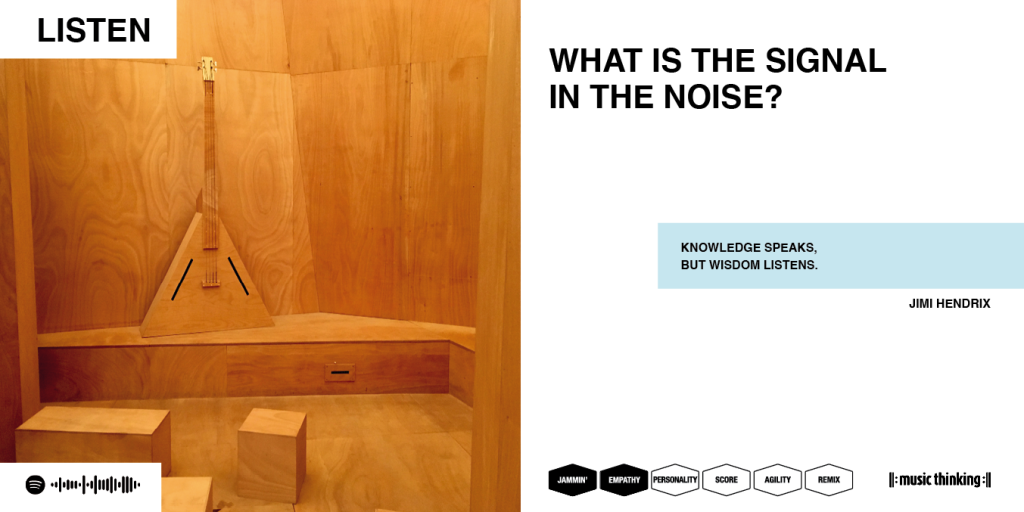 The picture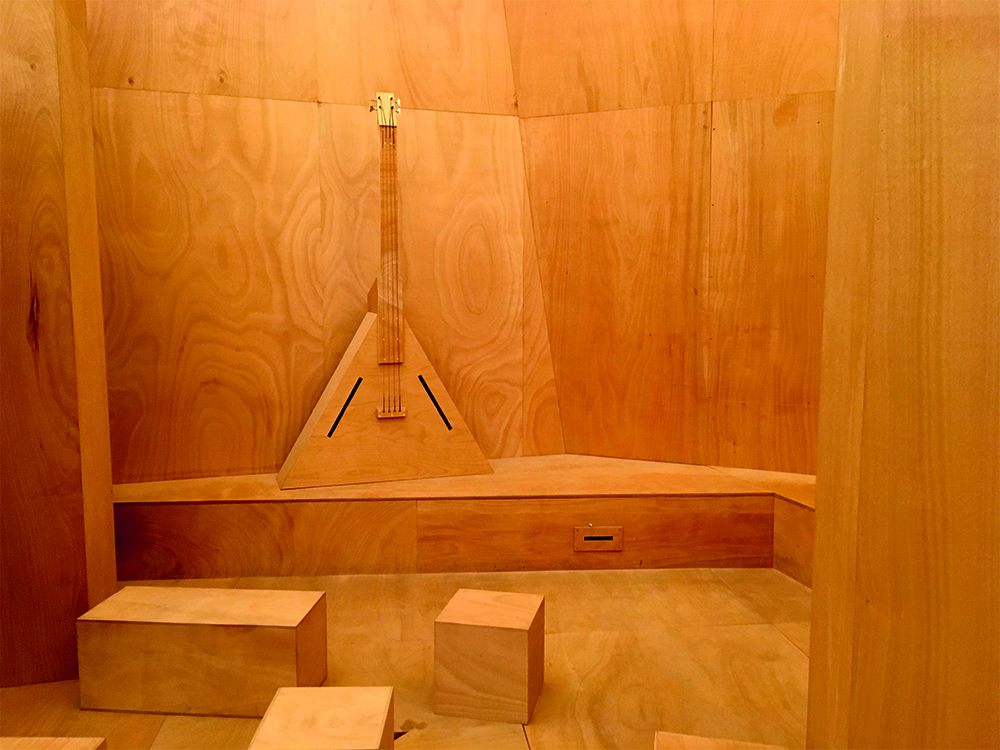 This iPhone snapshot was taken in the French Pavillion on the Venice Art Biennale 2017. The Pavillion is an architectural installation or living sculpture with different space that are intended as a recording studio. The idea of Studio Venezia by the artist Xavier Veilhan was to share moments of fragility, love, relationships and attention with musicians and art lovers. The inside – inspired by the Merzbau of Kurt Schwitters – was all wood in a monochrome colour, where different musical instruments were built in the environment to bring emotion into visual art. Furthermore, during the exhibition, there were concerts from baroque, classical music, experimental jazz, pop to electronic music to share a sense of curiosity in sound and musical texture.
The quote
Knowledge speaks, wisdom listens.
To me, this quote tells two things: on the one hand to share knowledge we need to speak and on the other to get knowledge and transform it into wisdom and also in actions it requires listening.
Jimi Hendrix was one of the greatest and influential electrical guitarists of all times.
The sonic trigger
Voodoo Child (slight return) is one of Hendrix's best-known songs; it was a feature of his concert performances throughout his career, and several live renditions were recorded and released on later albums. I really love the beginning, the sonic quality and rhythm played with a wah-wah pedal and the great panning later in the song (listen with headphones). Thats why the song is not only an improvisation with guitar, voice, bass and drums but also great studio work that was evolving at the end of the 60s.
Here is another version together with Stevie Winwood:
The cues
On this card, we have the two cues that are playing the main role in the listening step at the beginning of a process: JAMMIN" and EMPATHY. First of all JAMMIN' has two functions: to open up and to sense (what might come). While the EMPATHY cue stands for listening – deep and active listening – and also for understanding.
Some inspirational links
Video of the French Pavillion at Biennale di Venezia 2017
Deep Listening Institute Pauline Oliveros
About the Jam Cards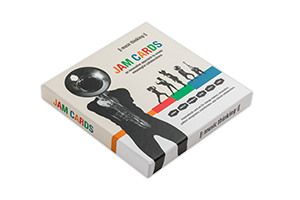 An inspirational card set for change makers, pattern recognisers, innovators, transformers and natural collaborators. The Jam Cards consist of 38 inspiration cards and six cue cards. All inspiration cards have a keyword, a visual and a sonic trigger, a trigger question, an inspirational quote, and six cues that connect with the Music Thinking Framework. You can use the cards from a strategic point of view, knowing what you want or need and a serendipity approach open to everything that will happen. 'Music Thinking' lets people work and play together in a new way with inspirations from the rich world of music.
Order the Jam Cards
You can order the jam cards via your local bookstore (worldwide) and have a nice chat with the people there and try the cards right away, or just buy them directly at BIS Publishers.
Likewise, you can also find them at Amazon.com, Amazon.de, and Bol.com