Music Thinking can be used to help organisations, teams, and individuals to move via iteration to innovation and finally transformation. Besides workshops we offer you four programmes that incorporate trainings and workshops based around a selection of the Music Thinking cue with a suggestion of different instruments.
Each programme starts with one of the cues of the Music Thinking Framework – e.g. the creativity programme starts with JAMMIN' – where the cues are focus points. The instruments (tools) we suggest to explore the objective, lie in between the cues. For each programme, we visualised a possible roadmap. 
COLLABORATE AND CO-CREATE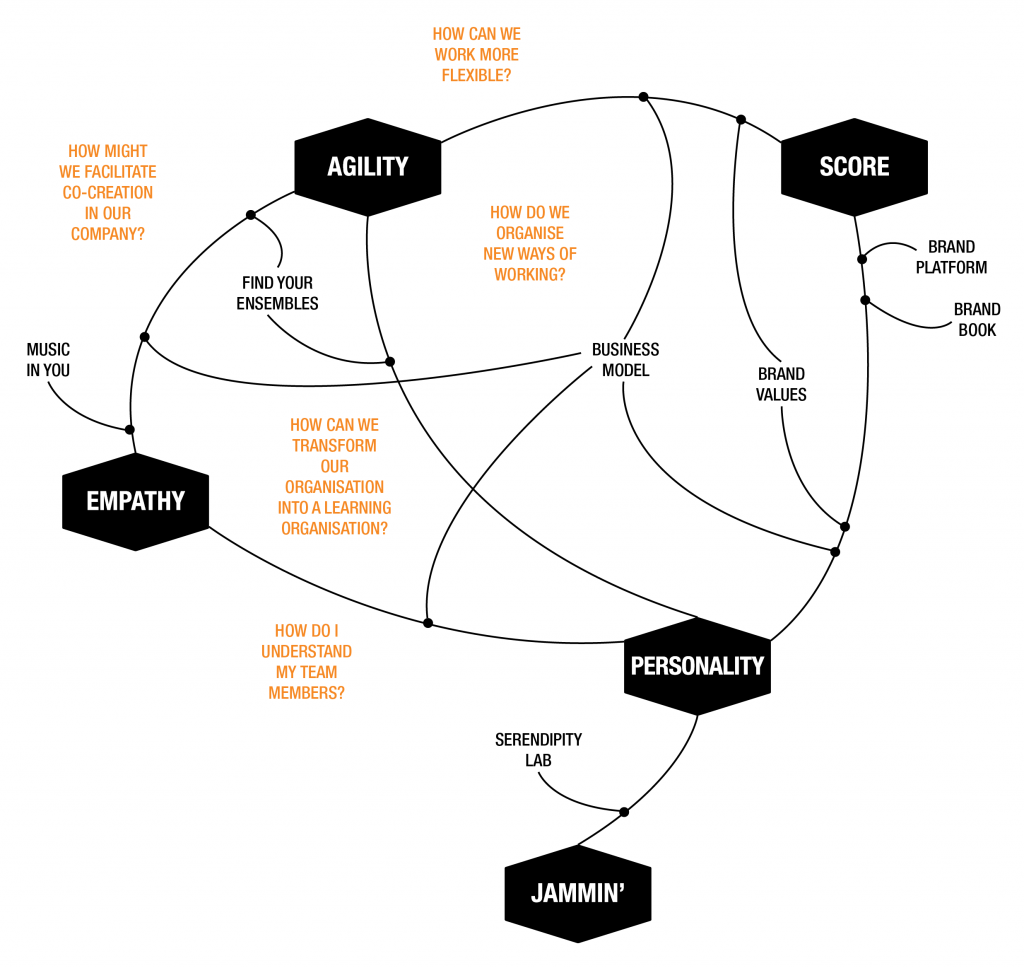 Being a 21st century business means flexible collaboration in order to stay in the market. This approach answers questions like "How can we operate a more flexible and transformative business?" and "What is the best way to communicate and visualise our starting points so that everybody knows how we work and what to do?"
Here, the AGILITY cue and the SCORE cue are used as starting points. Complementary cues might come into the picture as the process continues. For example, one might choose the EMPATHY cue to explore team building from a more individual-focused level, choose the PERSONALITY cue to explore how an organisation's mindset relates to the way of working, or choose the JAMMIN' cue to open individuals up for new approaches and new ways of collaborating.
What should my programme look like?
The visualisation we presented above is just a possibility, which means that there are many more examples of instruments and different combinations. We are happy to offer you a custom-made programme designed around your objectives to guide you through challenges in creativity, service design, and organisational change. Get in touch with us!